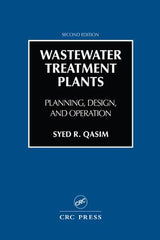 Wastewater Treatment Plants Planning, Design, and Operation, Second Edition, 2nd Edition
By
 

Syed R. Qasim

CRC Press

1,128 pages

 
Description
Step-by-step procedures for planning, design, construction and operation:
* Health and environment
* Process improvements
* Stormwater and combined sewer control and treatment
* Effluent disposal and reuse
* Biosolids disposal and reuse
* On-site treatment and disposal of small flows
* Wastewater treatment plants should be designed so that the effluent standards and reuse objectives, and biosolids regulations can be met with reasonable ease and cost. The design should incorporate flexibility for dealing with seasonal changes, as well as long-term changes in wastewater quality and future regulations. Good planning and design, therefore, must be based on five major steps:
characterization of the raw wastewater quality and effluent,
pre-design studies to develop alternative processes and selection of final process train,
detailed design of the selected alternative,
contraction, and
operation and maintenance of the completed facility.
Engineers, scientists, and financial analysts must utilize principles from a wide range of disciplines: engineering, chemistry, microbiology, geology, architecture, and economics to carry out the responsibilities of designing a wastewater treatment plant. The objective of this book is to present the technical and nontechnical issues that are most commonly addressed in the planning and design reports for wastewater treatment facilities prepared by practicing engineers. Topics discussed include facility planning, process description, process selection logic, mass balance calculations, design calculations, and concepts for equipment sizing. Theory, design, operation and maintenance, trouble shooting, equipment selection and specifications are integrated for each treatment process. Thus delineation of such information for use by students and practicing engineers is the main purpose of this book.
Reviews
A well written single volume. It is recommended for consideration as a text and should be a worthwhile addition to professional libraries. It is a good value for the money. There is one final point. The index is excellent!
-International Journal of Environmental Science
A pragmatic approach to wastewater treatment planning and design. . . . The design information is presented in a simplified format that is ideal for teaching, studying, and reference needs.
-Journal WPCF
Table of Contents
Preface
Introduction
Historical Background
Current Status
Future Directions
Plant Design
Scope of the Book References
Basic Design Considerations
Introduction
Initial and Design Years
Service Area
Site Selection
Design Population
Regulatory Controls and Effluent Limitations
Characteristics of Wastewater
Degree of Treatment
Choice of Treatment Processes, Process Train and Comparison of Alternatives
Equipment Selection
Plant Layout and Hydraulic Profile
Energy and Resource Requirements
Plant Economics
Environmental Impact Assessment
Problems and Discussion Topics
References
Wastewater Characteristics
Introduction
Municipal Water Demand
Wastewater Flow
Quality of Wastewater
Characteristics of Wastewater
Unit Waste Loading and Population
Equivalents
Problems and Discussion Topics
References
Wastewater Treatment Unit Operations and Processes, and Process Diagram
Introduction
Liquid Treatment Systems
Sludge Processing and Disposal
Problems and Discussion Topics
References
Predesign Studies
Introduction
Project Planning
Facility Planning
Preparation of Design Plans, Specifications, Cost Estimates, and Support Documents
Discussion Topics
Model Facility Plan
Introduction
Project Identification
Objectives and Scope
Effluent Limitations and Initial Design Period
Existing and Future Conditions
Forecast of Waste-water Characteristics from Service Areas
Wastewater Treatment Process Alternatives
Engineer's Development of the Proposed Project
Financial Status
Description of Selected Wastewater Treatment Facility
Environmental Impact Assessment
Public Participation
Program Cost
Breakdown Time
Schedule for Project Milestones
Attachments
Problems and Discussion Topics References
Design of Intercepting Sewers
Introduction
Design and Construction of Community Sewerage System
Information Checklist for the Design of Sanitary Sewers
Design Example
Operation and Maintenance, and Troubleshooting in Sanitary Sewers
Specifications
Problems and Discussion
Topics References
Screening
Introduction
Types of Screens
Design Factors for Bar Racks (Bar Screens)
Equipment Manufacturers of Bar Racks
Information Checklist for Design of Bar Rack
Design Example
Operation and Maintenance and Troubleshooting at Mechanically Cleaned Bar Rack
Specifications
Problems and Discussion Topics
References
Pumping Station
Introduction
Pump Types and Applications
Types of Pumping Stations
Hydraulic Terms and Definitions Commonly Used in Pumping
Centrifugal Pumps
Design of Pump Stations
Manufacturers of Pumping Equipment
Information Checklist for Design of Pumping Station
Design Example
Operation and Maintenance, and Troubleshooting at Pumping Station
Specifications
Problems and Discussion Topics
References
Flow Measurement
Introduction
Location of Flow Measurement Devices
Flow Measurement Methods and Devices
Flow Sensors and Recorders
Equipment Manufacturers for Flow-Measuring and Flow-Sensing Devices and Recorders
Information Checklist for Design of Flow-Measuring Device
Design Example
Operation and Maintenance Specifications
Problems and Discussion
Topics References
Grit Removal
Introduction
Location of Grit Removal Facility
Gravity Settling
Types of Grit Removal Facilities
Grit Collection and Removal
Quantity of Grit
Grit Disposal Equipment
Manufacturers of Grit Removal Facilities
Information Checklist for Design of Grit Removal
Facility Design Example
Operations and Maintenance, and Troubleshooting at Aerated Grit Removal Facility
Specifications
Problems and Discussion Topics
References
Primary Sedimentation
Introduction
Flocculent Settling (Type II)
Types of Sediment Basins
Design Factors
Enhanced Sedimentation
Equipment Manufacturers of Sedimentation Basins
Information Checklist for Design of Sedimentation Basin
Design Example
Operations and Maintenance, and Troubleshooting at Primary Sedimentation Facilities
Specifications
Problems and Discussion Topics
References
Biological Waste Treatment
Introduction
Fundamentals of Biological Waste Treatment
Aerobic Suspended Growth Reactors
Aerobic Attached Growth and Combined Attached and Suspended Growth
Biological Treatment
Anaerobic Suspended-Growth Biological Treatment
Anaerobic Attached Growth Biological Treatment
Biological Nutrient Removal Processes
Secondary Clarifiers
Equipment Manufacturers of Biological Waste Treatment Processes
Information Checklist for BNR and Clarification Facilities
Design Example
Operation and Maintenance, and Troubleshooting at Activated Sludge Treatment
Facility
Specifications Problems and Discussion Topics
References
Disinfection
Introduction
Methods of Disinfection
Kinetics of Disinfection
Disinfection with Chlorine
Dechlorination Chlorine Dioxide
Bromine
Chloride
Ozonation
UV Disinfection Equipment Manufacturers of a UV Disinfection Facility
Information Checklist for Design of a UV Disinfection Facility
Design Example
Operation and Maintenance, and Troubleshooting at UV Disinfection Facility
Specifications
Problems and Discussion Topics
References
Effluent Disposal
Introduction
Methods of Effluent
Reuse and Disposal Information
Checklist for Design of Outfall Structure
Design Example
Operation and Maintenance, and Troubleshooting at Outfall Structure
Specifications
Problems and Discussion Topics
References
Sources of Sludge and Thickener Design
Introduction
Characteristics of Municipal Sludge
Sludge-Processing Systems and Environmental Control
Volume-Weight Relationship and Pumping
Preliminary Operations
Sludge Thickening
Equipment Manufacturers
Information Checklist for Thickener Design
Design Example
Operation and Maintenance, and Troubleshooting at Sludge-Thickening Facility
Specifications
Problems and Discussion Topics
References
Sludge Stabilization
Introduction
Process Selection
Anaerobic Digestion
Aerobic Digestion
Other Sludge Stabilization Processes
Equipment Manufacturers of Sludge Stabilization Systems
Information Checklist for Design of Sludge Stabilization Facility
Design Example
Operation and Maintenance, and Troubleshooting at Sludge Stabilization Facility
Specifications
Problems and Discussion Topics
References
Sludge Conditioning and Dewatering
Introduction
Sludge Conditioning
Sludge Dewatering
Equipment Manufacturers of Sludge Conditioning and Dewatering Systems
Information Checklist for Design of Sludge Conditioning and Dewatering Facilities
Design Example
Operation and Maintenance, and Troubleshooting at Belt Filter Press
Specifications Problems and Discussion Topics
References
Sludge Disposal
Introduction
Overview of Sludge Disposal Practices
Sludge Conversion Processes
Land Applications of Municipal Sludge (Biosolids)
Sludge Disposal by Landfilling
Information Checklist for Design of Sludge Disposal Facility
Design Example
Operation and Maintenance, and Specifications
Problems and Discussion Topics
References
Plant Layout
Introduction
Factors Affecting Plant Layout and Site Development
Design Example
Problems and Discussion Topics
References
Yard Piping and Hydraulic Profile
Introduction
Yard Piping
Plant Hydraulics
Problems and Discussion Topics
References
Instrumentation and Controls
Introduction
Benefits and Need of Instrumentation and Control Systems
Sludge Dewatering
Equipment Manufacturers of Instrumentation and Control Systems
Information Checklist for Design and Selection of Instrumentation and Control
Systems
Design Example
Problems and Discussion Topics
References
Design Summary
Advanced Wastewater Treatment and Upgrading Secondary Treatment Facility
Introduction
Natural Systems
Overview of Advanced Wastewater Treatment Technology Problems and Discussion
Topics
References
Wastewater Treatment Systems for Small Flows
Introduction
Wastewater Problems of Small Communities
Strategy for Selection of Wastewater Treatment and Disposal Systems for Small
Flows
Wastewater Flowrates and Characteristics
Site Evaluation and Selection for Onsite Treatment and Effluent Disposal
Onsite Wastewater Treatment Systems
Final Disposal Methods
Wastewater Collection, Treatment and Disposal Systems for Sewered Areas
Problems and Discussion Topics
References
Management of Stormwater and Combined Sewer Overflows
Introduction
Current Status
Characteristics, Impacts and Management of Stormwater
Characteristics, Impacts, and Management of Combined Sewer Overflows
Problems and Discussion Topics
References
Avoiding Design Errors
Introduction
Examples of Design Errors and Deficiencies
Procedure to Avoid or Reduce Common Design Errors and Deficiencies
Do's and Don'ts Design
Checklist Discussion Topics
References
Appendices
Physical and Chemical Properties of Water
Head Loss Constants in Open Channels and Pressure Pipes
Treatment Plant Cost Equations
Manufacturers and Suppliers of Wastewater Treatment Plant Equipment
Selected Chemical Elements
Abbreviations and Symbols, Useful Constants, Unit Conversions, Design Parameters, and Units of Expression for Wastewater Treatment