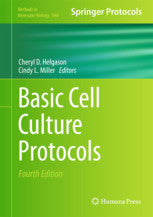 Basic Cell Culture Protocols 4th Ed. By Helgason, Cheryl D., Miller, Cindy L. (Eds.)
Basic Cell Culture Protocols
Series: Methods in Molecular Biology, Vol. 946
Helgason, Cheryl D., Miller, Cindy L. (Eds.)
4th ed. 2013, XIV, 550 p. 104 illus., 44 illus. in color.
Contains numerous new chapters that explore the most current areas of investigation as well as updated chapters from the previous edition
Includes clear and concise protocols, ready for the laboratory
Features expert tips and key implementation advice to ensure successful results
At some point in their careers, virtually every scientist and technician, as well as many medical professionals, regardless of their area of specialization have a need to utilize cell culture systems. Updating and significantly expanding upon the previous editions, Basic Cell Culture Protocols, Fourth Edition provides the novice cell culturist with sufficient information to perform the basic techniques, to ensure the health and identity of their cell lines, and to be able to isolate and culture specialized primary cell types. The intent of this extensive volume is to generate a valuable resource containing clear methodologies pertinent to current areas of investigation, rather than attempting to educate cell culturists on specific cell types or organ systems.  Written in the highly successful Methods in Molecular Biology™, chapters include introductions to their respective topics, lists of the necessary materials and reagents, step-by-step, readily reproducible laboratory protocols, and tips on troubleshooting and avoiding known pitfalls.
Comprehensive and up-to-date,
Basic Cell Culture Protocols, Fourth Edition
compiles the essential techniques needed to approach this vital laboratory activity with full success.
Content Level » Professional/practitioner
Keywords » Cell culture systems - Cell differentiation - Cell isolation - Cellular processes - Specialized primary cell types - Tissue culture techniques
TABLE OF CONTENTS :
1. Detection of Mycoplasma Contaminations
2. Eradication of Mycoplasma Contaminations
3. STR DNA Typing of Human Cell Lines: Detection of Intra- and Interspecies Cross-Contamination
4. Classical and Molecular Cytogenetic Analysis
5. Fluorescent In Situ Hybridization (FISH) of DNA Probes in the Interphase and Metaphase Stages of the Cell Cycle
6. The Development of T Lymphocytes in Fetal Thymus Organ Culture
7. Generation, Isolation, and Engraftment of In Vitro-Derived Human T Cell Progenitors
8. In Vitro Generation of Human T Regulatory Cells: Generation, Culture, and Analysis of FOXP3-Transduced T Cells
9. Simultaneous Cloning and Selection of Hybridomas and Transfected Cell Lines in Semisolid Media
10. Isolation and Characterization of Mouse Side Population Cells
11. Stem Cell Identification by DyeCycle Violet Side Population Analysis
12. Isolation and Characterization of Cancer Stem Cells In Vitro
13. Ex Vivo Differentiation of Cord Blood Stem Cells into Megakaryocytes and Platelets
14. Generation and Characterization of Murine Alternatively Activated Macrophages
15. Human Long Term Culture Initiating Cell (LTC-IC) Assay
16. Long Term Culture Initiating Cell (LTC-IC) Assay for Mouse Cells
17. Colony Forming Cell Assays for Human Hematopoietic Progenitor Cells
18. Studying Leukocyte Recruitment Under Flow Conditions
19. Generation and Establishment of Murine Adherent Cell Lines
20. Isolation, Enumeration, and Expansion of Human Mesenchymal Stem Cells in Culture
21. Isolation and Culture of Mesenchymal Stem Cells from Mouse Compact Bone  
22. Generation of a Pool of Human Platelet Lysate (pHPL) and Efficient Use in Cell Culture
23. In Vitro Methods to Culture Primary Human Breast Epithelial Cells
24. Human Prostate Epithelial Cell Cultures
25. Enzymatic Dissociation, Flow Cytometric Analysis, and Culture of Normal Mouse Mammary Tissue
26. Isolation and Characterization of Human Hair Follicle Epithelial Cells
27. Co-Cultivation of Human Oral Keratinocytes and Human Osteoblast-Like Cells
28. Isolation and Culture of Skeletal Muscle Myofibers as a Means to Analyze Satellite Cells
29. Hepatic Differentiation of Embryonic Stem Cells by Murine Fetal Liver Mesenchymal Cells
30. Methods to Culture, Differentiate, and Characterize Neural Stem Cells from the Adult and Embryonic Mouse Central Nervous System
31. Feeder-Independent Culture Systems for Human Pluripotent Stem Cells
32. Formation of Embryoid Bodies from Human Pluripotent Stem Cells Using AggreWell™ Plates
33. Techniques in Embryoid Body Formation from Human Pluripotent Stem Cells