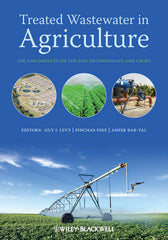 Treated Wastewater in Agriculture: Use and impacts on the soil environments and crops By Guy Levy (Editor), P. Fine (Editor), A. Bar-Tal (Editor)
Treated Wastewater in Agriculture: Use and impacts on the soil environments and crops
464 pages
November 2010
As the world's population increases and the demand for water increases apace there is a rising demand for information concerning the reuse of wastewater, particularly for the irrigation of key food crops worldwide. This important new book addresses in detail the use of treated wastewater in agricultural situations, its impact on crops and the soil environment. Coverage includes the composition and treatment of wastewater, health considerations, regulations and economic aspects. Major sections of the book also concentrate on crop management and the soil environment. This book is an essential purchase for all those working in irrigation, water management and crop production worldwide.
Use of Treated Wastewater (TWW) for irrigation is increasingly important as the world's population increases
Chapters prepared by leading scientists in the field
Comprehensive coverage of current knowledge and advances in the area of TWW
Focus on possible environmental impacts (positive and negative)
Guy J. Levy, Pinchas Fine and Asher Bar-Tal are based at the Institute of Soil, Water and Environmental Sciences, Agricultural Research Organization, The Volcani Center, Israel.
*Use of Treated Wastewater (TWW) for irrigation is increasingly important as the world's population increases
*Chapters prepared by leading scientists in the field
*Comprehensive coverage of current knowledge and advances in the area of TWW
*Focus on possible environmental impacts (positive and negative)
"This book provides a comprehensive and highly relevant overview of the many issues involved in the use of treated wastewater (TWW) in irrigated agriculture . . . This interesting book is recommended reading for scientists, engineers and for graduate teaching." (Experimental Agriculture, 2011)
"This book is a comprehensive examination of irrigation with TWW from both agricultural and environmental perspectives, looking at both the advantages and disadvantages of this technology . . . this book is an essential reference for anyone working in irrigation, crop production, and water management." (Booknews, 1 April 2011)