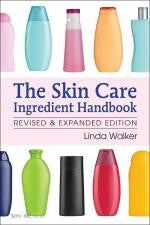 The Skin Care Ingredient Handbook Revised & Expanded by Linda Walker
Format Details
Softcover
606 Pages
New! Published 2014
Over 2,100 Ingredients including the addition of drug interactions! Keep this book on hand to look up spa product ingredients.
As a Skin Care Specialist, you are up on the latest spa services and trends but do you have a good, working knowledge of ingredients used in your spa products?
Linda Walker has been designing professional skin care products for 25 years. That expertise has been funneled directly into The Skin Care Ingredients Handbook Revised & Expanded Edition, which, in addition to retaining the insight of the first edition, now contains even more of what the working skin care professional needs.
This handbook will help you answer ingredient and product questions from your well-educated, savvy clients and help you sell spa products based on individual needs. A little education goes a long way in boosting your confidence and clinching that extra sale.
The symbols next to each ingredient can easily be matched with the symbols on the bottom of the page which will help in categorizing the ingredient for acne, anti-aging… It's a clever, condensed way for you to find what you need in a hurry.
If you are looking for a current, reliable, easy-to-read science-based ingredients book, this second edition of The Skin Care Ingredients Handbook is a must-have reference. And it's more than just an ingredients book! Add to the ingredients mix a healthy dose of skin science, labeling information, drug interactions, green chemistry and more and now you have even more reason to keep this handbook within reach!
Why should you purchase this NEW edition?
Addition of new chapter on the topic of Ingredients for Sensitive and Health-Challenged Skins
Expansion of ingredient glossary listings
Addition of drug interactions for every single ingredient entry
Reorganization and expansion of classification ICONS with the ingredient glossary
Addition of 6 new appendices covering the following topics:
Comedogenic ingredients (Comedogenic ingredients are known to clog pores.)
Allergen/irritant ingredient listing
Examples of fragrance listing requirements on over-the-counter (OTC), cosmeceutical, and cosmetic products
Discussion of standards and certifications for natural, organic, and specialized ingredient categories
The 12 Principles of Green Chemistry
Recycling codes for plastics
Table of Contents
Introduction
Part I: Fundamentals
Chapter 1: Cellular Functions and Skin Aging
Skin Cells
Mitochondria and the Role of Antioxidants
DNA and Epigenetics
DNA and Telomeres
The Future of Skin Care via Gene Manipulation
Apoptosis and Autophagy
Cellular Senescence
Sirtuins
Heat Shock Proteins
Osmoprotection
Human Stem Cells and Plant Stem Cells
Circadian Rhythms
Role of Cellular Enzymes
Collagen
Advanced Glycation End Products (AGEs)
Role of MMPIs in Skin Anti-aging
Inflammation
Skin Whitening and Brightening
Summary

 

Chapter 2: Ingredient Selection:

<liOrganic Plant Ingredients
Natural Ingredients
Synthetic/Nature-Identical Ingredients
Nature-Identical + Green Chemistry = The New Biotechnology
The New Biotechnology = Sustainability
Fair Trade Sustainable Ingredients
Sustainable/Green Packaging

 

Chapter 3: Skin Care Trends
Sensitive and Health-Challenged Skin
Very Mature Skin
Aging and Acne
Sunscreens
Multifunctional vs. Targeted Products
Genetics/Epigenetics/Ethnicity
"Globility"
Scalp and Hair Products
Body Products
Men's Products

 

Chapter 4: Definition of Ingredients and Technologies
Active vs. Functional Ingredients
Common Functional Ingredients
Other Common Ingredients and Concepts

 

Chapter 5: Ingredients for Senstitive and Health-Challenged Skins
Corneotherapy and Stratum Corneum
Corneotherapy and Dermatitis
Acid Mantle and Sensitive Skin (pH)
Stratum Corneum Repair Ingredients
Helpful Ingredients for Specific Health-Challenged Skin Issues
Food Allergies >li>Controversial Ingredients
Sunscreen and Estrogenic Activity

Part II: Glossary of Ingredients

Part III: Appendices

Appendix A: FDA Labeling Regulations

Appendix B: Definition of Terms

Appendix C: INCI Listing of Ingredients

Appendix D: Comedogenic Ingredients List

Appendix E: Allergen/Irritant Ingredient List

Appendix F: Examples of Fragrance Listing Requirements for Over-the-Counter, Cosmeceutical, and Cosmetic Products