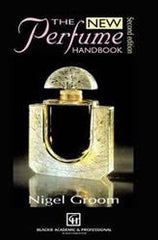 The New Perfume Handbook , 2nd ed. By Nigel Groom
SPECIAL INDIAN REPRINT !!
The New Perfume Handbook , 2nd ed.,
By Groom, Nigel. (Ed.)2nd Latest ed448 pages
The first edition of this unique book established itself as an unparalleled source of information on perfume. Although it is primarily aimed at perfumers and others in the perfume industry, it has also found substantial sales among a wide range of others including aromatherapists, botanists, and many others who wanted to learn more about this faceted subject. The new edition is now aimed squarely at perfumery marketing specialists and others in the industry world-wide and covers in particular the needs of publicity/advertising teams and journalists, together with sales people and consultants at the counters who like to have a wide range of information at their fingertips. Changes include: an expansion of the number of profiles of the perfume houses, and of the 50 or so new perfumes worthy of record which have been launched since the previous edition. There is also increased coverage of the essences and the plants and other material from which they are derived. Coverage of perfume containers is substantially expanded and linked to other parts of the book.
Table of Contents:
Preface
Acknowledgements
A to Z. Perfume
Appendix A: list of fragrances
Appendix B: perfume recipes and formulas. Bibliography