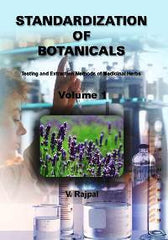 Standardization of Botanicals, Vol. 1 By Dr. V. Rajpal
Standardization of Botanicals, Vol. 1
There has been a resurgence in usage of herbal medicine in the past few years, not only among the traditional medicine users (ethno-medicine) but also among the modern consumers of herbal products. This is supplemented with all round growth of similar natural products among the nutritional supplements and personal care segments. The question of quality therefore acquires greater importance today than ever before.
While there are some books available on identification, description, pharmacological action, safety aspects etc. of medicinal herbs, very few books can be found on quantitative testing of medicinal herbs. This book fulfills that gap in knowledge base with detailed, ready to use and validated methods of analysis to be perfomed in a quality control laboratory. This book will be welcomed by all those who are concerned about the standardization of botanicals as it provides analytical procedures for extracts as well as phytochemicals.
This book is an attempt to provide, not only the quantitative testing methods but also chemical constituents, extraction processes, specifications of various extracts, therapeutic functions, dosage, pharmacological properties, toxicity/safety aspects and references. Volume I of this book contains 25 widely used medicinal herbs.
ABOUT THE AUTHOR
Dr. Rajpal obtained his doctorate in phytochemistry in 1976 and since then has been associated with the herb processing and testing of botanicals, their extracts and phytochemicals in an industrial setting. He also provides consultancy services to various companies in this sector. He is presently working as a Technical Director with a company engaged in extraction of botanicals.
WHO SHOULD BUY THIS BOOK
Manufacturers of herbal extracts
Manufacturers of herbal formulations
Manufacturers of herbal cosmetics
Manufacturers of nutritional supplements
Testing laboratories
Research Institutions
Herb growers
Academic institutions
Regulatory affairs specialists
CONTENTS
Preface
Acorus calamus
Distribution and Description of the Plant
Chemical Constituents of the Herb
Extraction Process
Alternate Extraction Process
Specifications Sheet -
Dry Extract-Powder (10:1)
Estimation of ß - asarone in Acorus calamus
Dry Extract by HPTLC
Pharmacological and Biological Activities
Therapeutic Indications
Dosage
Toxicity and Safety Aspects
References
--------------------------------------------------------------------------------
Aloe barbadensis
Distribution and Description of the Plant
Chemical Constituents of the Herb
Extraction Process
Extraction process of Aloe Gel and Powder
Specifications Sheet-
(1) Gum Dry Extract
(2) Leaf Dry Extract
(3) Gel - stablised
Assay (For Hydroxy Anthracene Derivatives)
Assay (Mucilage - Mucopolysaccharides)
Determination of Aloesin in Aloe Extract and Aloe Preparations by HPLC
Pharmacological and Biological Activities
Therapeutic Indications
Shelf-Life
Uses
Dosage
Toxicity and Safety Aspects
Reference
--------------------------------------------------------------------------------
Andrographis paniculata
Distribution and Description of the Plant
Chemical Constituents of the Herb
Extraction Process
Specifications Sheet -
(1) Dry Extract (Spray dried Powder)
(2) Soft Extract
(3) Andrographolide
Estimation of Total Bitters as
Andrographolides in Andrographis
Paniculata plant (Kalmegh) Extract
Estimation of Andrographolides by Spectrophotometric Method
HPLC Analysis of Andrographolide
Pharmacological and Biological Activities
Clinical Research
Therapeutic Indications
Dosage
Contra-indications / Cautions
Official Pharmacopoeial Preparations
References
--------------------------------------------------------------------------------
Bacopa monnieri
Distribution and Description of the Plant
Chemical Constituents of the Herb
Extraction Process
Specifications Sheet - Herb Dry Extract
Estimation of Total Saponins as
Bacosides A & B in Bacopa monnieri
Dry Extract
HPLC Analysis of Bacosides A & B
Quantitative Determination of
Bacosides by HPTLC
Determination of Total Bacosides as Bacoside A by UV Spectroscopy
Pharmacological and Biological Activities
Clinical Research
Therapeutic Indications
Dosage
References
--------------------------------------------------------------------------------
Boswellia serrata
Distribution and Description of the Plant
Chemical Constituents of the Herb
Extraction Process
Isolation of ß- Boswellic Acid
Conversion of ß-Boswellic Acid acetate to
ß - Boswellic Acid
Specifications Sheet - Gum Dry Extract - Vacuum Dried Powder
Method of Estimation of Boswellic Acid by Non-Aqueous Titration in Boswellia serrata (Sallaki) Dry Extract
Pharmacological and Biological Activities
Therapeutic Functions
Dosage
References
--------------------------------------------------------------------------------
Cassia angustifolia
Distribution and Description of the Plant
Chemical Constituents of the Herb
Extraction Process
Specifications Sheet -
(1) Cassia angustifolia Leaf Dry Extract
(2) Sennosides - 30% To 60%
Assay of Sennosides (USP-XXIV, P. 1517)
Pharmacological and Biological Activities
Toxicity and Safety Data
Dosage
Therapeutic Indications
Contra-indications
References
--------------------------------------------------------------------------------
Centella asiatica
Distribution and Description of the Plant
Chemical Constituents of the Herb
Extraction Process
Specifications Sheet -
Dry Extract (Vacuum Dried Powder)
Estimation of Sapogenins as Asiatic Acid
Assay by HPLC Procedure
Estimation of Saponin by Gravimetric Method
Pharmacological and Biological Activities
Clinical Research
Official Pharmacopoeial Preparations
Therapeutic Indications
Dosage
Contra-Indication / Cautions / Warning
References
--------------------------------------------------------------------------------
Cissus quadrangularis
Syn. Vitis quadrangularis
(Heliotropium indicum)
Distribution and Description of the Plant
Chemical Constituents of the Herb
Extraction Process
Specifications Sheet - Stem Dry Extract
Quantitative Testing
Pharmacological and Biological Activities
Clinical Research
Therapeutic Indications
Dosage
References
--------------------------------------------------------------------------------
Commiphora mukul Gum (Guggul Gum)
Distribution and Description of the Plant
Chemical Constituents of the Herb
Extraction Process
Specifications Sheet -
(1) Guggul gum Soft Extract
(2) Guggul gum Dry Extract Powder 10:1
(3) Guggul gum Dry Extract Powder 5:1
Estimation of Guggulsterones by Spectrophotometer
Estimation of Lipids in Guggul Extract
UV Spectrum Profile
Pharmacological and Biological Activities
Side Effects
Clinical Research
Therapeutic Functions
Dosage
References
--------------------------------------------------------------------------------
Eclipta alba
Distribution and Description of the Plant
Chemical Constituents of the Herb
Extraction Process
Specifications Sheet -
(1) Herb Dry Extract
(2) Herb Soft Extract
Estimation of Bitters
Pharmacological and Biological Activities
Clinical Research
Therapeutic Indications
Dosage
Safety Aspects
References
--------------------------------------------------------------------------------
Garcinia cambogia
Distribution and Description of the Plant
Chemical Constituents of the Herb
Extraction Process
Manufacturing Process
Specifications Sheet - Dry Extract - Spray dried powder
Quantitative Estimation of (-) Hydroxy Citric Acid in Garcinia cambogia Extract
Estimation of (-) Hydroxy Citric Acid by HPLC
Pharmacological and Biological Activities
Clinical Research
Therapeutic Indications
Dosage
References
--------------------------------------------------------------------------------
Glycyrrhiza glabra
Distribution and Description of the Plant
Chemical Constituents of the Herb
Extraction Process for Thick Paste/Powder
Manufacturing Process - of Mono-ammonium Gylcyrrhizinate and Deglycyrrhizinised Liquorice Extract
Specifications Sheet -
(1) Root Dry Extract
(2) Root Thick Paste
(3) De-Glycyrrhizinated Liquorice Dry Extract
(4) Mono Ammonium Glycyrrhizinate
(5) Sodium Glycyrrhizinate
(6) Glycyrrhizic Acid
(7) Glycyrrhitinic Acid
Estimation of Flavonoids in Glycyrrhiza glabra Dry Extract and De-Glycyrrhizinised Liquorice Extract
Estimation of Crude Glycyrrhizin by Gravimetric Method (Garret Method)
Estimation of Glycyrrhizin by Spectrophotometric Method
Estimation of Glycyrrhizic Acid by HPTLC
Estimation of Glycyrrhizin by TLC - Densitometry
Testing method of Mono-ammonium Glycyrrhizinate
Manufacturing Process of Sodium Glycyrrhizinate
Conversion of Mono Ammonium Glycyrrhizinate to Glycyrrhitinic Acid
Conversion of Glycyrrhitinic Acid to Its Acetate
Conversion of Glycyrrhitinic Acid to Its Succinate Derivative (Carbenoxolone)
Process Flow Chart For Mono Ammonium Glycyrrhizinate [MAG]
Process Flow Chart For De-Glycyrrhizinated Liquorice Extract [DGL]
Pharmacological and Biological Activities
Clinical Research
Side effects
Therapeutic Indications
Dosage
References
--------------------------------------------------------------------------------
Gymnema sylvestre
Distribution and Description of the Plant
Chemical Constituents of the Herb
Extraction Process
Specifications Sheet -
(1) Leaf Dry Extract
(2) Leaf Purified Dry Extract
Estimation of Crude Gymnemic Acid from Gymnema sylvestre Leaf Extract
Quantitative assay method for Total Gymnemasaponin by High Performance Liquid Chromatography (HPLC)
An alternate HPLC procedure for estimating Gymnemic Acid
Pharmacological and Biological Activities
Clinical Research
Therapeutic Indications
Dosage
References
--------------------------------------------------------------------------------
Hypericum perforatum
Distribution and Description of the Plant
Chemical Constituents of the Herb
Extraction Process
Specifications Sheet -
(1) Dry Extract Powder
(2) Soft Extract
Estimation of Dianthrones calculated as Total Hypericin
Therapeutic Indications
Dosage
Pharmacological and Biological Activities
Clinical Research
Toxicity and Safety Data
References
--------------------------------------------------------------------------------
Mucuna pruriens
Distribution and Description of the Plant
Chemical Constituents of the Herb
Extraction Process
Manufacturing Process of L - Dopa
Specifications Sheet - Processed Mucuna Seeds Dry Powder
Estimation of L-Dopa in Mucuna pruriens Extract
Pharmacological and Biological Activities
Clinical Research
Therapeutic Indications
Dosage
References
--------------------------------------------------------------------------------
Passiflora incarnata
Distribution and Description of the Plant
Chemical Constituents of the Herb
Extraction Process
Specifications Sheet -
(1) Soft Extract
(2) Dry Extract
Estimation of Flavonoids by HPLC
Pharmacological and Biological Activities
Therapeutic Indications
Dosage
Toxicity and safety data
References
--------------------------------------------------------------------------------
Phyllanthus amarus
Distribution and Description of the Plant
Chemical Constituents of the Herb
Extraction Process
Specifications Sheet -
(1) Soft Extract
(Thick Paste)
(2) Herb Dry Extract
Estimation of Phyllanthin and Hypophyllanthin by HPLC
Thin Layer Chromatographic Analysis of Phyllanthus Species
Estimation of Bitters as Lignan
Pharmacological and Biological Activities
Therapeutic Functions
Dosage
References
--------------------------------------------------------------------------------
Picrorhiza kurroa
Distribution and Description of the Plant
Chemical Constituents of the Herb
Extraction Process
Specifications Sheet -
(1) Thick Paste
(2) Dry Extract
TLC Procedure of Picrorhiza kurroa
Estimation of Bitters as Kutkin In Picrorhiza kurroa Root (Kutki) Extract
HPLC Procedure
Pharmacological and Biological Activities
Clinical Research
Therapeutic Functions
Dosage
References
--------------------------------------------------------------------------------
Polygala senega
Distribution and Description of the Plant
Chemical Constituents of the Herb
Extraction Process
Specifications Sheet -
(1) Soft Extract (Polygala chinensis)
(Senega Indian)
(2) Dry Extract Polygala chinensis (Senega Indian)
Estimation of Total Triterpenic Saponins in Senega Root / Extract
Pharmacological and Biological Activities
Therapeutic Functions
Dosage
Toxicity and Safety Aspects
References
--------------------------------------------------------------------------------
Tinospora cordifolia
Distribution and Description of the Plant
Chemical Constituents of the Herb
Extraction Process
Specifications Sheet - Dry Extract
Estimation of Bitters in Tinospora cordifolia Extract
Estimation of Cordifolioside ''''''''''''''''A'''''''''''''''' by HPLC Method
HPTLC Analysis
Pharmacological and Biological Activities
Clinical Research
Therapeutic Functions
Dosage
References
--------------------------------------------------------------------------------
Tribulus terrestris
Distribution and Description of the Plant
Chemical Constituents of the Herb
Extraction Process
Specifications Sheet -
(1) Processed Tribulus terrestris Dry Extract
(2) Tribulus terrestris Dry Extract
Estimation of Total Saponins in Tribulus terrestris (Gokhru) Extract
TLC Analysis
Pharmacological and Biological Activities
Therapeutic Functions
Dosage
References
--------------------------------------------------------------------------------
Trigonella foenumgraecum
Distribution and Description of the Plant
Chemical Constituents of the Herb
Extraction Process
Specifications Sheet -
(1) Dry Extract
(2) Soft Extract
Testing Procedure For Saponins in Trigonella foenumgraecum (Methi Dana) Extract
Pharmacological and Biological Activities
Therapeutic Indications
Dosage
Uses and Applications
References
--------------------------------------------------------------------------------
Valeriana wallichii
Distribution and Description of the Plant
Chemical Constituents of the Herb
Extraction Process
Specifications Sheet -
(1) Thick Paste
(2) Dry Extract
Quantitative Estimation of Valepotriates
Valerenic Acid Determination by HPLC
Pharmacological and Biological Activities
Clinical Research
Therapeutic Indications
Dosage
Toxicity and Safety Aspects
References
--------------------------------------------------------------------------------
Withania somnifera
Distribution and Description of the Plant
Chemical Constituents of the Herb
Extraction Process
Specifications Sheet - Dry Extract
Estimation of Withanolides
Estimation of Glycowithanolides
Estimation of Total Alkaloids
Pharmacological and Biological Activities
Contraindications / Cautions
Therapeutic Indications
Dosage
References
--------------------------------------------------------------------------------
Zingiber officinale
Distribution and Description of the Plant
Chemical Constituents of the Herb
Extraction Process for thick paste
Extraction Process for dry extract
Specifications Sheet -
(1) Thick Paste
(2) Dry Extract
Analysis Procedure
Pharmacological and Biological Activities
Clinical Research
Therapeutic Functions
Dosage
Toxicity and Safety Data
References
--------------------------------------------------------------------------------
ANNEXURES
Annexure - 1 Herb Extraction Chart
Annexure - 2 Websites on Herbal Medicines
Index of Chemical Constituents