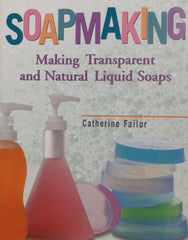 Soapmaking : Making Transparent and Natural liquid soaps By Catherine Failor
Consider how aesthetically pleasing soap is and what an intimate role it plays in our everyday lives, with the correct balance of oils, solvents and additives, you can make homemade soap that feels softer, richer and creamier than any commercial brand on the market                                                                       .
Contrary to popular belief, soap making is easy. With some essential pieces of equipment, inexpensive supplies and basic know-how, you're on your way to creating personalized soaps 
With its Myriad colors, scents and shapes, soap can brighten any bathroom or kitchen, Even the most basic soap recipe yields spectacular results and the scents, colors and molds you choose can turn the predictable into the unexpected. Soap Fragrances run the gamut from soothing florals to invigorating fruit scents. You can even add some of your favorite perfume or natural dyes such as ground spices and herbs, cocoa powder, rosin and chlorophyll.
Discover how fun and easy it can be to create your own unique specialty soaps !
CONTENTS :
        Part 1  Making Transparent Soap
All About Soap

Knowing your Ingredients 

Equipment and Safety Precautions

Making Transparent Soaps

Transparent Soaps Recipes

Dyes and Fragrances 

Troubleshooting Transparent Soaps

Part II  Making Natural Liquid Soaps 



 Getting Started

A Guide to Basic Techniques

Formulating Blends
Sumptuous Bath and Shower gels 
Premium Natural Shampoos
Dyeing and Fragrancing 
Troubleshooting Liquid soaps  
Bibliography
Glossary
Metric Conversion Chart
Resources
Index
Author :
Catherine Failor has been making soap for more than 20 years. Her experience in graphic design and interest in science has enabled her to test hot-process soap making, a technique not usually accessible to the home soap maker. She has developed new ways to make colorful, scented soaps in the home kitchen, and shares them in her Storey books, Making Transparent Soap and Making Natural Liquid Soaps. Failor's entrepreneurial ventures include Copra Soap, a specialty soap manufacturing company, and her current venture, Milky Way Molds, producing the finest selection of craft molds in the Milky Way Galaxy