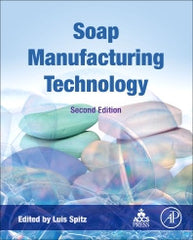 Soap Manufacturing Technology 2nd Edition Editors: Luis Spitz
Imprint: Academic Press and AOCS Press
Published Date: 17th October 2016
Page Count: 308
Description :
Soap Manufacturing Technology, Second Edition, is the most authoritative and up-to-date book on soap technology available today. Editor and contributing author Luis Spitz leads a world-renowned team in providing comprehensive information on all components of soap manufacturing including formulation, performance evaluation, cleansing systems, and more. This new edition includes two new chapters, Integrated Saponification and Drying Systems and Laundry Bars, and the others are completely revised and updated.
Includes new chapters and figures, tables, and text updated from the first edition
Serves as a technical reference book ideal for both experienced and beginning soap producers and suppliers
Provides an overview of the AOCS methods used for the evaluation of soap and soap products
Includes two new chapters on Integrated Saponification and Drying Systems and Laundry Bars
Soap producers, soap supplier, home and personal care research and development, cosmetic chemists
1: Implications of Soap Structure for Formulation and User Properties

The Importanceof the Oleate:Laurate Eutectic Mixture

Soap Structure–Performance Models

The Source of Structure Weakness

Consequences of Structural Weakness

The Implications of Structure and Mush for Cracking

Effects of Formulation on Cracking
2: Soap Structure and Phase Behavior
3: Formulation of Traditional Soap Cleansing Systems

4: Chemistry, Formulation, and Performance of Syndet and Combo Bars

Chemistry of Synthetic Surfactants

Formulation of Cleansing Bars

Cast (Poured) Transparent/Translucent Syndet/Combo Cleansing Bars

Performance- and Appearance-Improving Additives

Mildness Improvers/Skin Conditioners/Moisturizers

Design of the Dove Beauty Bar—A Development Showcase

Mildness Evaluation Methods
5: Transparent and Translucent Soaps

Soap Structure and Transparency Development

Typical Soap Phases, Their Properties, and Methods for Characterization

Translucency Development during Neat Soap Drying and Finishing

Cast-Melt Process and Transparency Development
6: Semi-Boiled and Integrated Saponification and Drying Systems\
No. of pages:   308
Language:  English
Copyright:© Academic Press and AOCS Press

2017
Published:17th October 2016
Imprint :  Academic Press and AOCS Press
Luis Spitz has been a world-renowned expert in the soap industry for over 50 years. With a degree in chemical engineering from Wayne State University, he became an expert on soap processing while working at The Dial Corporation in Chicago. He has represented (the) Italian Manufacturers of Soap Processing Plants and Packaging Machinery and is currently an independent consultant in the soap industry. From 1977–2015, Luis chaired and presented at numerous global conferences on soaps and detergents, including the first AOCS World Conference on Soaps and Detergents (1977) and several SODEOPEC conferences (2002, 2006, 2008, 2015). He has edited and contributed to 7 soap-related titles, including Soap Technology for the 1990's, Soaps and Detergents – A Theoretical and Practical Review (1996), SODEOPEC (2004), the first and second editions of The Evolution of Clean – A Visual Journey through the History of Soaps and Detergents and the first edition of Soap Manufacturing Technology.
Affiliations and Expertise
L. Spitz Inc., Highland Park, IL, USA