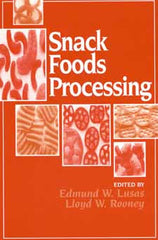 Snack Foods Processing by Edmund W. Lusas, Lloyd W. Rooney
Features
Includes every major type of savory shelf-stable snack product
Covers ingredients, equipment, preparation, processing, and post shaping and drying operations
Features contributors from leading equipment and supplier companies
Provides industry-based information not found in any other reference
Discusses sensory evaluation and quality control
Serves as a handy reference of ingredients specifications and process operating conditions
Summary
Providing a clear, comprehensive overview of the industry, Snack Foods Processing is the definitive handbook on developing, preparing, and processing shelf-stable savory snack foods. Contributors from leading companies and academic institutions provide practical information and guidance based on years of industry experience. Collectively, they review the principles and critical specifics of processing savory snacks, starting from raw materials selection and care, through types of equipment used and its proper operation, to product seasoning, and packaging.

The book covers every major product type, including potato and corn chips, alkali-cooked corn tortilla chips, pretzels, popcorn, extruder puffed and baked/fried products, half-products, meat snacks, and rice-based snacks. It also discusses international snack foods, including those of China, India, and Japan. It details post shaping and drying operations, covering seasonings, flavorings application, product protection and packaging materials, and filling and cartoning equipment.

Whether you are new to the field or you are a pro facing broader responsibilities, Snack Foods Processing provides valuable information gained through first-hand experience. It presents a clear introduction to the snack foods industry and its terminology and explains the technical interrelationships between the many materials and processes used in making the finished snack food. New entrants into the field will be able to confidently communicate with suppliers and associates. Managers and quality control personnel will gain a better idea of where to start in solving problems when they arise.



Table of Contents
Contents
Snack Foods Setting


Industry Scope
The Snack Industry: History, Domestic and Global Status

Ingredients and General Equipment


Food Quality of Corn
Alkaline-Cooked Corn Products
Starches for Snack Foods
Oils and Industrial Frying
Hot Air Dryers

Snack Foods Preparation and Dedicated Equipment


Potatoes and Potato Chips
Use of Dried Potatoes in Snack Foods
Tortilla Chip Processing
Snack Foods From Formers and High-Shear Extruders
Snack Foods From Cooking Extruders
Perfect Pretzel Production
Popcorn Products
Snack Foods of Animal Origin
Rice-Based Snack Foods
Japanese Snack Foods
Snack Foods of India

Operations After Shaping and Drying


Snack Food Seasonings
Snack Seasonings Application
Sensory Evaluation in Snack Foods Development and Production
Product Protection and Packaging Materials
Snack Foods Filling and Packaging
Evaluation Methods and Quality Control for Snacks

Appendices
Index