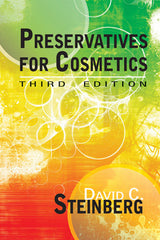 Preservatives for Cosmetics, Third Edition by David C. Steinberg
Preservatives for Cosmetics
Third Edition 
By David C. Steinberg
Hardcover, 291 pages
Published 2012
Hands-on Reference You 
Will Use Frequently!
New, Fully Revised Third Edition!
In the six years since the last edition of Preservatives for Cosmetics, the field has changed and there are now more players with bigger concerns. The scope is now even more international than it has ever been before.
In this new, fully revised third edition, David C. Steinberg's coverage of the contemporary usage of cosmetic preservatives has been expanded to more than twice its original length, giving deeper and broader coverage to areas including alcohols, halogenated compounds, diols, and several others. Even greater depth has been added to discussions of preservatives' many forms and applications, alongside expansion on topics that include preservatives as active ingredients, HACCP and cGMPs, and non-traditional preservatives. Finally, an entirely new final chapter addresses international regulatory guidelines and restrictions for respective preservatives geographically, with regions or blocs including the European Union, ASEAN, Japan, and Canada.
Preservatives for Cosmetics: Third Edition is a hands-on, usable reference to cosmetic preservatives that delivers a plethora of information in a succinct, approachable style. Reference textbooks need not be dry and impenetrable. In his customary voice known for decades to the readers of Cosmetics & Toiletries magazine, David Steinberg has opened even wider the gates of formulative knowledge and application.
Written for: Cosmetic Chemists, Cosmetic Marketers, Detergent and Soap Formulators, Microbiologists, Dermatologists, Pharmaceutical Chemists, Suppliers, Fragrance Chemists, Natural Cosmetic Formulators, Toxicologists, anyone interested in regulatory!
Highlights/ Key Topics:
The entire book has been fully revised, overhauled, and expanded.
Deeper and broader coverage includes alcohols, halogenated compounds, diols, and several others.
Attention is paid to preservatives as active ingredients, as well as HACCPs and cGMPs, a topic new to this volume.
New chapter that addresses geographically significant preservatives with regard to application and allowance/restriction/regulation.

ASEAN—Brunei Darussalam, Cambodia, Indonesia, Laos, Malaysia, Myanmar, Philippines, Singapore, Thailand, and Vietnam
Canada
China
European Union
Japan
Mercosur—Argentina, Brazil, Paraguay, and Uruguay, with Chile and Bolivia
Mexico
United States
TABLE OF CONTENTS :
Chapter 1: Welcome to Preservatives: An Introduction
Chapter 2: Preservatives: A Categorical Examination
Chapter 3: Preservatives as Active Ingredients
Chapter 4: Non-traditional Preservatives, Fragrances, and "Natural" Preservatives
Chapter 5: Water Activity, HACCP and cGMPs
Chapter 6: Chelating Agents & Antioxidants: Preservatives' Helpers
Chapter 7: Regulations of Preservatives by Country or Trading Bloc, and a List of Global Suppliers
Index
for Cosmetics,