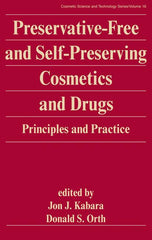 Preservative-Free and Self-Preserving Cosmetics and Drugs: Principles and Practices By Jon J. Kabara
SPECIAL INDIAN REPRINT
Preservative-Free and Self-Preserving Cosmetics and Drugs: Principles and Practices
Jon J. Kabara
January 2, 1997 by CRC Press , Special Indian Reprint 2016
Reference - 286 Pages
Summary
Introduces the principles that augment the formulation of products free from traditional preservatives by creating a hostile environment for microorganisms without diminishing quality. The text emphasizes that the preservation of a product should be inherent in the formula and examines the use of multifunctional chemicals whose secondary characteristics include germistatic and germicidal qualities.
Table of Contents
1.Principles for product preservation;
2. The effect of acid pH on microorganisms and survival strategies that enable microorganisms to grow in products;
3. The effect of water activity on cosmetic and drug preservation;
4. The role of surfactants in self-preserving cosmetic and drug formulas;
5. Fatty acids and esters - multifunctional components of product preservative systems;
6. Biomimetic phospholipids - components for self-preserving formulae;
7. The role of antioxidants in cosmetic and drug Formulation;
8. Aroma chemicals as preservatives;
9. Chelating agents as preservative potentiators;
10. The role of packaging in product preservation;
11. Preservative-free and self-preserving cosmetic and drug products - the future.