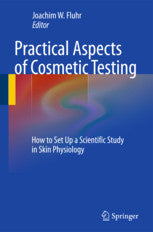 Practical Aspects of Cosmetic Testing : How to Set up a Scientific Study in Skin Physiology by Fluhr, Joachim W. (Ed.)
Practical Aspects of Cosmetic Testing
How to Set up a Scientific Study in Skin Physiology
2011, XI, 272 p. 13 illus.
Shows how to plan, perform and evaluate scientific skin physiology studies
Includes practical tools such as checklists
Written by leading experts
Assessment of skin physiology is moving rapidly away from a purely descriptive approach as we gain a deeper understanding of biophysical and biochemical processes in the stratum corneum, such as those relating to its barrier function and hydration. As a result of research utilizing bioengineering methods, reliable and reproducible approaches are now available for product testing in the pharmaceutical and cosmetic industry as well as in basic research. This book examines in detail all aspects of cosmetic testing – legal, general, and practical. After discussion of regulatory and ethical issues and guidelines, essential guidance is provided on the planning, performance, and evaluation of scientific studies in skin physiology. The topics addressed range from laboratory and staffing requirements through to testing devices and methods, factors influencing measurements, and study design. In addition, detailed information is provided on test settings for a range of cosmetic products. All of the authors are recognized experts in their field. This book will be invaluable to researchers, students, and medical staff in explaining how best to assess skin functions in controlled studies using non-invasive biophysical instruments.
TABLE OF CONTENTS :
Introduction: History and Progress of Objective Skin Analysis
Joachim W. Fluhr
Part I Legal Aspects of Cosmetic Testing
 1 Regulatory Aspects .............................................................................................. 3
Oliver Wunderlich 
 2 Ethical Aspects of Cosmetic Testing ................................................................... 15
Hristo Dobrev
 3 Good Clinical Practice ......................................................................................... 27
Betsy Hughes-Formella 
 4 Guidelines in Dermocosmetic Testing ................................................................ 33
Gerald E. Piérard, Valerie Docquier, Anelavre Schreder, Sophre Neuberg, 
and Claudine Piérard-Franchimont
 5 Claim Support: How to Create and Substantiate Claims ................................ 43
Sinead Hickey and Steve Barton
Part II General Aspects of Cosmetic Testing
 6 Testing Laboratory .............................................................................................. 65
Oliver Wunderlich
 7 Research Staff ....................................................................................................... 75
Ragna Williams
 8 Testing Population ................................................................................................ 79
Ragna Williams
 9 Testing Devices and Methods .............................................................................. 83
Gabriel Khazaka
10 Factors Influencing Measurements.................................................................... 89
Enzo Berardesca
11 Study Design .........................................................................................................101
Betsy Hughes-Formella
12 Cosmetic Testing Report .....................................................................................107
Hristo Dobrev
Part III Practical Aspects of Testing: Typical Examples of Test Settings
13 Moisturizers and Emollients ............................................................................... 123
Razvigor Darlenski and Joachim W. Fluhr
14 Antiaging and Antiwrinkle Products ................................................................. 143
Razvigor Darlenski, Theresa Callaghan, and Joachim W. Fluhr
15 Products for Impure, Acne-Like Skin ................................................................ 155
Hristo Dobrev
16 Assessment of Hair Morphology .........................................................................171
H. Zahouani and M. Fougère
17 Skin Colour and Pigmentation ...........................................................................179
Elisabeth Ammitzbøll Holm
18 Characterization of Sunscreens: Determination of the SPF ............................ 187
Juergen Lademann and Joachim W. Fluhr
19 Practical Aspects of Shampoo and Conditioner Testing .................................. 197
Trefor Evans
20 Antiperspirants and Deodorants ........................................................................217
Razvigor Darlenski and Joachim W. Fluhr
21 Hair Growth .........................................................................................................227
Tobias W. Fischer
22 Sensory Perception ...............................................................................................247
Gregor B.E. Jemec
23 Practical Use and Significance of Transepidermal 
Water Loss Measurements .................................................................................. 253
Truus Roelandt, Diane Roseeuw, and Jean Pierre Hachem
24 Compliance Check with On-Site Measurements: 
Advanced Ways in Product Testing .................................................................... 261
Gabriel Khazaka
Index .............................................................................................................................. 267
Content Level » Professional/practitioner
Keywords » assessment - biophysical and biochemical process - clinical study - cosmetic products - evaluation - non-invasive biophysical method