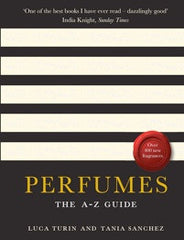 PERFUMES : The A - Z Guide By Luca Turin and Tania Sanchez
The GUIDE is the first major critical survey in English of the world of perfume, one bottle at a time. Rather than compiling lists of "notes" or "fragrance families," which can conceal more than they reveal, you'll find—sometimes sharply worded, sometimes rhapsodic—opinions and descriptions that sort the good, bad, and ugly of roughly 1,800 individual fragrances, masculine and feminine, from the outrageously expensive to the cheap and cheerful.
There are also in-depth essays and supplementary material that cover the what, how, and why of fragrance. Ever wonder how perfumes are created? What they're made of? Why they smell different over time? And why your favorite scent doesn't smell like it used to?
Reviewers have compared the GUIDE's fragrance criticism to Pauline Kael's5001 Nights at the Movies and Brillat-Savarin's The Physiology of Taste. Some read it aloud to dinner guests. Some have spent the grocery budget on perfume. Some have had copies stolen by co-workers. All agree—there's no other guide to perfume like it.
ABOUT LUCA TURIN
LUCA TURIN is probably the best qualified person in the world to co-author a perfume guide. He wrote the first in 1992, a relatively small, literary, and confidential affair in French.  Although out of print and out of date, his guide has achieved cult status among the perfume aficiòn. He has twice won the highest honor for perfume writing in France, the Prix Jasmin, in 2001 and 2004, and won the Jasmine Prize in the UK in 2009. A BBC documentary about his scientific work, "A Code in the Nose," still airs in reruns all over the world. Turin and his work are also the subject of a book written by Chandler Burr (now the
New York Times
perfume critic),
The Emperor of Scent
(2003), and Turin's own critically acclaimed book,
The Secret of Scent
(2006), published by Faber & Faber in the UK and in the US by HarperCollins. Perfume Notes, his blog on perfume, is no longer active but can be read as a PDF download. He also writes the Duftnote, a popular monthly column on all things smell-related for the prestigious Folio Magazine of the
Neuer Zurcher Zeitung
, plus a bi-weekly column on the intersection of science and art in the
Frankfurter Allgemeine Zeitung
. A biophysicist, he is currently on sabbatical from his position as Chief Technical Officer of Flexitral, a fragrance-molecule design company, and is conducting research on quantum effects in molecular biology as a visiting scientist at MIT. His lectures at TED and the University of Alaska at Juneau are viewable online.