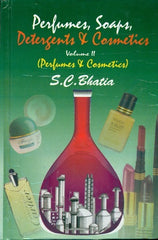 Perfumes Soaps Detergents & Cosmetics Volume 2 (Perfumes & Cosmetics) By S.C. Bhatia
Soaps Detergents & Cosmetics  Volume 2 (Perfumes & Cosmetics)
By S.C. Bhatia
Author : S.C.Bhatia

Binding : Hard Cover
Year : 2009
Edition : 1
Number Of pages : 794
This compact but comprehensive source book on perfumes and cosmetics is the second part of an informative textbook on the perfume soap detergent and cosmetic industries. Although primarily concerned with the manufacturing processes raw materials and equipments related to these industries it also considers ancillary topics needed for a full understanding of the subject. This reference book is intended for chemists postgraduates in chemistry chemical engineers and research students.
The book is in two sections  :
Section I deals with the perfume industry and
Section II focuses on cosmetics.
Section I begins with an overview of the perfume industry in India emphasising on natural and synthetic raw materials used in perfume manufacture. In the next topic the classification of odours and odorants flower perfumes and their formulations colognes of perfumes for men and perfumery usage are discussed. Information on the relevant senses of smell taste and method of testing is highlighted too.