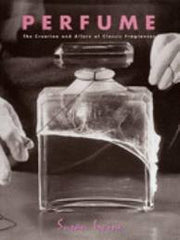 PERFUME : The Creation and allure of Classic Fragrances By Susan Irvine
Perfume: The Creation and Allure of Classic Fragrance
By Susan A. Irvine
Author: Susan A. Irvine
Publisher: Haldone mason Ltd
Published: November 1995
Format: Hardcover
Copyright: 1995
For 6000 Years Perfume has helped mankindto pray, heal, make love, hunt and even kill. Our ancestors made offerings of smouldering aromatic woods and resins to their gods , and fed their courtesans on musk so that they sweated pure perfume. The magic,mystery and sheer sensuality of such images still underlie the power of perfume today.
The creation of Fragrances involves the rarest and most costly materials , gathered from the corners of the earth. In the continual quest for more exotic, pure or refined scents and colognes, black markets have flourished and fortunes have been won, stolen and lost. Today with perfume in such high demand and the natural raw ingredients increasingly scarce, the race is on to use science to create cheaper and more plentiful alternative raw ingredients, For top courtier houses , the search is essential.
Perfume is the first definitive account of our attempt to express ourselves through our sense of smell. It is an examination of the entire world of fragrances: development, creation, makers and materials that go into a new perfume, its image and the people who wear it, the worldwide influence of the perfume industry and its close ties with fashion. The future of Perfume has never looked so diverse or so fascinating. With the high profile advertising and glamorous, exotic promotions that new perfumes currently enjoy, more people are aware of the magic, mystique and power of fragrance than ever before.
CONTENTS :
Chapter 1 : The Mystery of Perfume
Chapter 2 : Making Scents
Chapter 3 : Bottling Allure
Chapter 4 : Fragrant Fashion
Chapter 5 : The sensual Sell
Chapter 6 : The scent of things to come 
Index. Color/b&w illus. 160p.
About Author :

A keen collector of Perfume Bottles, Susan Irvine has written extensively on all aspects of fragrance. She has won the perfume industry's prestigious Jasmine Award five times for both writing and visual presentation. She has written for newspapers and magazines all over the world  including Vogue, The Tatler, Marie-Claire, Elle, Woman's Journal, the Independent, the Financial Times and the Sunday Times