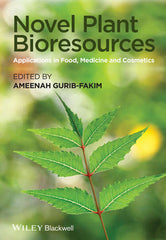 Novel Plant Bioresources: Applications in Food, Medicine and Cosmetics By Ameenah Gurib-Fakim (Editor)
Novel Plant Bioresources: Applications in Food, Medicine and Cosmetics
552 pages
April 2014
Novel Plant Bioresources: Applications in Food, Medicine and Cosmetics serves as the definitive source of information on under-utilized plant species, and fills a key niche in our understanding of the relationship of human beings with under-utilized plants. By covering applications in food, medicine and cosmetics, the book has a broad appeal. 
In a climate of growing awareness about the perils of biodiversity loss, the world is witnessing an unprecedented interest in novel plants, which are increasingly prized for their potential use in aromas, dyes, foods, medicines and cosmetics. This book highlights these plants and their uses. After an introductory section which sets the scene with an overview of the historical and legislative importance of under-utilized plants, the main four parts of the book are dedicated to the diverse potential application of novel plant bioresources in Food, Medicine, Ethnoveterinary Medicine and Cosmetics.
Examples and contributors are drawn from Africa, Europe, the USA and Asia. The economic, social, and cultural aspects of under-utilized plant species are addressed, and the book provides a much needed boost to the on-going effort to focus attention on under-utilized plant species and conservation initiatives. By focusing on novel plants and the agenda for sustainable utilization, Novel Plant Bioresources highlights key issues relevant to under-utilized plant genetic resources, and brings together international scholars on this important topic. 
Ameenah Gurib-Fakim is Professor and Managing Director at the Centre for Phytotherapy Research (CEPHYR) in Mauritius. She has authored several books on medicinal plants and on the flora of Mauritius and Africa and has received several international prizes. In 2013, she receives the Honorary Doctorate from the Universite Pierre Marie Curie (Sorbonne Universites) and is also Honorary Professor at UNISA, Pretoria, South Africa