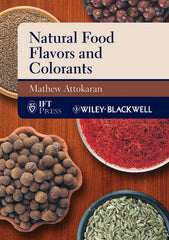 Natural Food Flavors and Colorants By Mathew Attokaran, PhD
Natural Food Flavors and Colorants
448 pages
March 2011
Although many foods are appealing, and even perceived as natural, in spite of containing synthetic additives, consumer increasingly prefer food products which are fully natural. This has driven an increase in the use of, and interest in, food additives derived from biological sources. Of particular interest are natural food flavors and colors, which have started to play a major role in food processing.
This volume presents practical information on over 80 natural extracts that can be used as food flavors and colors, drawing on the author's 50 years of food chemistry and technology expertise in both research and industry. The book is divided into three parts: Part I deals with manufacture, quality, analysis, and regulatory aspects. Part II describes the various sources of natural flavors and colorants that are currently available, alphabetized for convenient reference. Part III covers future directions that can be pursued by research workers and manufacturers.
Food scientists, researchers and product development professionals alike will find Natural Food Flavors and Colorants an invaluable resource for understanding and using these commercially important natural food ingredients.