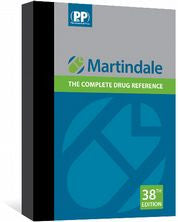 Martindale: The Complete Drug Reference Thirty-eighth edition by Brayfield, Alison
Martindale: The Complete Drug Reference
Brayfield, Alison
Thirty-eighth edition
Published Jun 2014
Hardback, 2 volumes
276 x 219mm (4688pp)
Martindale: The Complete Drug Reference provides reliable, unbiased and evaluated information on drugs and medicines used throughout the world. Based on published information and extensively referenced, Martindale develops as the body of knowledge on existing drugs grows. The most clinically relevant and appropriate information is evaluated and selected from reliable published sources.

Unique Benefits:
Breadth

: No other source has breadth of coverage or level of detail making it the ideal firstline reference work as well as a trusted source of information for more detailed drug enquiries

Global coverage

: Martindale is the leading resource in terms of international coverage – alternative publications have a narrow regional focus

Objectivity

: Respected for the accuracy of content and independence from pharmaceutical industry. Based on published information and extensively referenced

International adoption

: Recognised and adopted worldwide

This package contains two hardback volumes presented in a slipcase with:
Over 6,000 (and over 7,000 online) drug monographs
Over 180,000 (and over 240,000 online) preparations
Over 54,000 reference citations
About 20,000 (and 25,000 online) manufacturers and distributors
Proprietary preparations from 43 countries and regions
Nearly 700 disease reviews, with references from the published literature
Information to enable identification of medicines, the local equivalent and the manufacturer
Herbals, diagnostic agents, radiopharmaceuticals, pharmaceutical excipients, toxins, and poisons as well as drugs and medicines.
Improvements to the 38th edition of Martindale include:
Pages completely redesigned to improve readability
Layout of the monographs restructured with greater prominence to uses and administration
Over 200 new monographs
Increased coverage of proprietary preparations – now covers 43 countries and regions, including China
Porphyria abstracts extensively revised