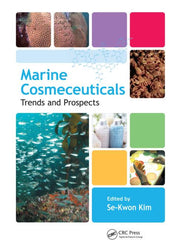 Marine Cosmeceuticals: Trends and Prospects Se-Kwon Kim - Special Indian reprint
December 20, 2011 by CRC Press , Indian Reprint 2016
Reference - 428 Pages - 94 B/W Illustrations
Features
Covers fundamental and applied aspects of cosmetic compounds
Includes techniques for the exploration of the marine habitat for novel compounds
Discusses various approaches for extracting marine cosmeceuticals and their application in the treatment of skin diseases, diabetes, and arthritis
Provides insight into present trends and future implications for marine cosmeceuticals
Covers introductory as well as advanced research on marine originated cosmeceutical substances
An integrated resource for marine biologists, biotechnologists, natural product chemists, and more
Summary
Marine Cosmeceuticals: Trends and Prospects is a consolidated overview of the marine environment as a productive source of novel cosmeceuticals. It accumulates the latest research in this field from around the globe, highlighting the potential of marine micro and macro flora and fauna as effective agents for the development of novel cosmeceuticals.
Part I overviews the biological activities of different marine sources and the class of cosmeceutical agents that they may deliver
Part II describes the chemical properties of marine cosmeceuticals, with special emphasis on chitosan as a cosmeceutical agent
Part III covers the range of biological properties and bioactive promise that the oceanic environment holds in the field of cosmetology, with a focus on marine fish and sponge derived collagens
Part IV presents different strategies for enhanced cosmeceutical production via biotechnology
Part V wraps up with the industrial applications of marine cosmeceuticals, including information on aquatic and marine bioactive antimicrobial peptides
With contributions from Korea, Japan, China, India, Spain, Chile, Malaysia, Canada, Italy, Sri Lanka, and Taiwan, Marine Cosmeceuticals: Trends and Prospects holds great insights for cosmetologists in particular and marine researchers in general. This book offers comprehensive knowledge on novel marine cosmeceutical agents, their biological and chemical properties, and industrial applications.
Table of Contents
Cosmeceuticals from Marine Resources: Prospects and Commercial Trends
Se-Kwon Kim and Isuru Wijesekara
Chemical and Biological Aspects of Marine Cosmeceuticals
Bin Yang, Xiuping Lin, Xue-Feng Zhou, Xian-Wen Yang, and Yonghong Liu
Chemical Properties of Chitosan as a Marine Cosmeceutical
Laura Calderón Muñoz, Elena Lecumberri Lima, Ruth Expósito Harris, María Ángeles López Mengíbar, Niuris Acosta Contreras, and Ángeles María Heras Caballero
Marine Phytochemical Compounds and Their Cosmeceutical Applications
Abdul Bakrudeen Ali Ahmed and Rosna Mat Taha
Effect of Marine Cosmeceuticals on the Pigmentation of Skin
Sumathy Babitha and Eun-Ki Kim
Photoprotective and Cosmeceutical Prospects from Marine Origin
Ramjee Pallela and Se-Kwon Kim
Prospects of Marine Sponge Collagen and Its Applications in Cosmetology
Janapala Venkateswara Rao, Ramjee Pallela, and G. V. S. Bhanu Prakash
Skin Photoprotection by Marine Carotenoids
Kazuo Miyashita, Nana Mikami, M. Airanthi K. Widjaja-Adhi, Masayuki Abe, and Masashi Hosokawa
Role of Astaxanthin in Cosmeceutical Applications
Pamela Chávez-Crooker, Johanna Obreque, Janette Vera, and Karla Moya
Effect of Marine Collagen Peptide on Skin Condition
Kenji Sato and Yasutaka Shigemura

Fish Collagen and Tissue Repair
Yoshihiko Hayashi, Shizuka Yamada, Takeshi Ikeda, and Kajiro Yanagiguchi
Red Algal Mycosporine-Like Amino Acids (MAAs) as Potential Cosmeceuticals
Yvonne V. Yuan and Yasantha Athukorala
Cosmeceutical Applications of Chitosan and Its Derivatives
Mahinda Senevirathne, Chang-Bum Ahn, Se-Kwon Kim, and Jae-Young Je
Brown Algae-Derived Compounds as Potential Cosmeceuticals
Mahinda Senevirathne and Se-Kwon Kim
Biological Properties of Cosmeceuticals Derived from Marine Algae
Se-Kwon Kim and Ratih Pangestuti
Hair Biology and Care Product Ingredients from Marine Organisms
Se-Kwon Kim and Soon-Sun Bak
Cosmeceuticals from Marine Fish and Shellfish
Vazhiyil Venugopal
Unlocking the Power of Marine Cosmeceuticals for Wrinkle-Free Skin
Dinanath B. Fulse, Spandana R. Kopalli, and Sushruta Koppula
Sea Water and Sea Mud: Cosmeceuticals Applications
Se-Kwon Kim, Jayachandran Venkatesan, and P.N. Sudha
Potential Cosmeceutical Applications of Phlorotannins and Fucoidans from Marine Algae in the Treatment of Atopic Dermatitis
Se-Kwon Kim and Noel Vinay Thomas
Application of Chitin Nanofibrils and Collagen of Marine Origin as Bioactive Ingredients
Pierfrancesco Morganti, Paola del Ciotto, Gianluca Morganti, and Véronique Fabien-Soulé
Screening Strategies for the Discovery of Marine Microbial Cosmeceuticals
Se-Kwon Kim and Ira Bhatnagar

Cosmeceutical Properties of Brown Algae and Its Industrial Applications
You-Jin Jeon , W.A.J.P. Wijesinghe and Se-Kwon Kim
Potential Applications of Chitosan as a Marine Cosmeceutical
Elena Lecumberri Lima, Laura Calderón Muñoz, Ruth Expósito Harris, and Ángeles María Heras Caballero
Industrial Applications of Marine Cosmeceuticals
Janak K. Vidanarachchi and Maheshika S. Kurukulasuriya
Aquatic and Marine Bioactive Antimicrobial Peptides and Biosurfactants for the Cosmeceutical Industry
Jen-Leih Wu and Jenn-Kan Lu
Industrial Prospects of the Cosmeceuticals Derived from Marine Mucin
Se-Kwon Kim and Fatih Karadeniz

Index