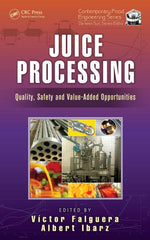 Juice Processing: Quality, Safety and Value-Added Opportunities by Victor Falguera, Albert Ibarz
April 1, 2014 by CRC Press
Reference - 401 Pages - 133 B/W Illustrations
Features
Presents current trends in juice processing, presenting new approaches to traditional methods as well as novel technologies
Reviews the progress that has been achieved in extracting various components with functional properties from the fruits
Discusses methods for assessing juice quality and authenticity
Summarizes the characteristics of various superfruits
Describes novel thermal and non-thermal processing techniques, such as ohmic heating and pulsed light
Covers different types of enzymes that optimize clarification in the early stages of extracting juice from the fruit
Discusses value-added byproducts produced from the waste generated by the exhausted pulp of the fruit
Summary
The ability to provide quality juices that contain proper vitamins and nutritional components strongly depends on the processes fruits undergo during the various stages of industrial manufacturing. New technologies have been developed to help ensure the production of quality juices without neglecting safety. Covering both new approaches to traditional issues and innovative processes, Juice Processing: Quality, Safety and Value-Added Opportunities addresses various aspects of fruit juice processing and other issues related to the use of by-products generated in this industry.

The book begins with a chapter highlighting the importance of the fruit juice sector and describing the general process of fruit juice manufacturing. The text explores current trends in juice production, reviews the main superfruits, and discusses methods for using juice waste by-products, presenting citrus and grape juice as examples. The book covers assessing juice quality and authenticity, and how to evaluate fruit properties using the principles of rheology as well as examining sensory attributes. It also examines alternative techniques for improving fruit juice quality, including both thermal and nonthermal emerging technologies, their fundamentals, and their main effects on important features of fruit juices.

Emphasizing product quality, safety, and nutrition, the chapter on juice packaging summarizes the materials, techniques, and technologies currently used as well as novel packaging for increasing shelf life and decreasing environmental impact. The authors address issues concerning spoiling microorganisms and biological and chemical hazards. They also examine public and private standards and regulations, which need to be reworked to keep up with today's food-related concerns.
Table of Contents
Squeezing Fruits in the Second Decade of the Twenty-First Century: The Current Situation of the Juice Industry
Víctor Falguera and Albert Ibarz

Product Innovation: Current Trends in Fruit Juice Production to Meet Market Demands
Miguel Angel Cubero Márquez

New Trends in Fruit Juices: Superfruits
Francisco López Bonillo

Recovery and Use of By-Products from Fruit Juice Production
Nuria Martí, José Lorente, Manuel Valero, Albert Ibarz, and Domingo Saura

Assessing Juice Quality: Measuring Quality and Authenticity
Núria Rafel, Xavier Costa, and Carlos Berdun

Assessing Juice Quality: Advances in the Determination of Rheological Properties of Fruit Juices and Derivatives
Pedro E.D. Augusto and Alfredo A. Vitali

Assessing Juice Quality: Analysis of Organoleptic Properties of Fruit Juices
Gemma Echeverría and María Luisa López

Utilization of Enzymes in Fruit Juice Production
Jordi Pagán

Advances in Fruit Juice Conventional Thermal Processing
José Lorente, Nuria Martí, and Domingo Saura

Thermal Emerging Technologies in Fruit Juice Processing
M.V. Traffano-Schiffo, N. Balaguer, Marta Castro-Giráldez, and Pedro J. Fito

Nonthermal Emerging Technologies in Fruit Juice Processing
Olga Martín-Belloso, Ángel Robert Marsellés-Fontanet, Robert Soliva-Fortuny, and Pedro Élez-Martínez

Pressure Treatments in Juice Processing: Homogenization Pressures Applied to Mandarin and Blueberry Juices
Juan Manuel Castagnini, Esther Betoret, Noelia Betoret, and Pedro Fito

Membrane Processes in Juice Production
M. Isabel Iborra, Maria Isabel Alcaina Miranda, and Silvia Álvarez

Juice Packaging
Maribel Cornejo-Mazón, Darío Iker Téllez-Medina, Liliana Alamilla Beltrán, and Gustavo Fidel Gutiérrez-López

Spoiling Microorganisms in Fruit Juices
Antonio J. Ramos and Sonia Marín

Safety in Fruit Juice Processing: Chemical and Microbiological Hazards
Sonia Marín and Antonio J. Ramos

Public and Private Standards and Regulation Concerning Fruit Juices
Antonio Martínez, Dolores Rodrigo, Josep Arbós, and Yvonne Colomer