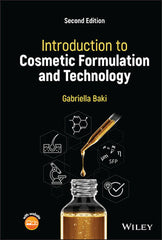 Introduction to Cosmetic Formulation and Technology, 2nd Edition Gabriella Baki
 January 2023, 832 Pages
DESCRIPTION
Introduction to Cosmetic Formulation and Technology
An accessible and practical review of cosmetics and OTC drug-cosmetic products
In the newly revised second edition of Introduction to Cosmetic Formulation and Technology, veteran educator and researcher Dr. Gabriella Baki delivers a comprehensive discussion of cosmetics and personal care products, including coverage of basic concepts, ingredient selection, formulation technology, and testing. The book offers a clear and easy-to-understand review of cosmetics and over the counter (OTC) drug-cosmetic products available in the United States.
In this latest edition, the author expands on general concepts and adds brand-new chapters on the basics of cosmetics testing, ingredients, and skin lightening products. Each chapter includes a summary of common abbreviations with questions provided online, alongside a solutions manual for instructors.
Readers will also find:
A thorough introduction to the basic definitions, claims, and classifications of cosmetics and OTC drug-cosmetic products
Comprehensive explorations of the current rules and regulations for cosmetics and OTC drug-cosmetic products in the United States and European Union
Detailed review of cosmetic ingredients, functions, and typical uses both in a dedicated a chapter and included within various others
Practical coverage of good manufacturing practices for cosmetics, including documentation, buildings and facilities, equipment, and personnel
Fulsome review of a variety of skin and hair care products, color cosmetics, and other personal care products
Perfect for undergraduate and graduate students studying cosmetic science in chemistry, chemical engineering, pharmaceutical, biomedical, and biology departments, Introduction to Cosmetic Formulation and Technology will also benefit cosmetic chemists, cosmetic product formulators, cosmetic scientists, quality control managers, cosmetic testing specialists, and technicians.
ABOUT THE AUTHOR