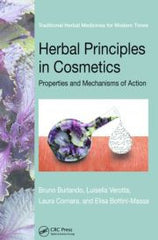 Herbal Principles in Cosmetics: Properties and Mechanisms of Action by Bruno Burlando
Herbal Principles in Cosmetics: Properties and Mechanisms of Action
Bruno Burlando, Luisella Verotta, Laura Cornara, Elisa Bottini-Mass
Features
Presents a new approach based on scientific analysis of the mechanisms and actions of herbal principles
Compiles a comprehensive list of the most current research articles
Includes illustrations of plants, spices, and herbs, as well as electron micrographs and chemical structures
Contains an eight-page color insert
Summary
Interest in the molecular and mechanistic aspects of cosmetic research has grown exponentially during the past decade. Herbal Principles in Cosmetics: Properties and Mechanisms of Action critically examines the botanical, ethnopharmacological, phytochemical, and molecular aspects of botanical active ingredients used in cosmetics. Along with dermatological and cosmetic uses, the book also explores the toxicological aspects of these natural ingredients, maintaining a balanced view that carefully dissects the hype from the solid science.
Contains Comprehensive Monographs of Herbs Useful for Skin Care & Diseases
Authored by a panel of experts in cell physiology, phytochemistry, ethnopharmacology, applied botany, ethnobotany, and cosmetic science, the book begins with background in skin anatomy and physiology and also the classification, mechanisms of action, and application of herbal compounds. It provides monographs complete with therapeutic properties, specific action and dermatologic properties, toxicities, pictures, and references. The book also addresses the complexities of green biodiversity, including not only higher plants, but also mushrooms, algae, lichens, and bacteria – each chosen for their importance in traditional use, potential for innovation, or recent introduction to market.
Includes a Vivid Color Insert with Photographs of Botanical Species
Herbal Principles in Cosmetics: Properties and Mechanisms of Action is one of the few books devoted to the mechanisms of action of herbal compounds based on scientific analysis, making it an exceptionally valuable reference for pharmacologists, natural product chemists, skin physiologists, and dermatologists.
Table of Contents
The Skin: Morphophysiological Traits and Disease
Epidermis
Dermal and Subdermal Tissue
Cutaneous Annexes
Skin Disorders
References
Botanical Compounds and Their Dermatological and Cosmetic Uses
Lipids
Terpenoids
Phenols and Related Compounds
Flavonoids
Alkaloids
Carbohydrates
Glycosides
Hydroxy Acids
References
Herbal Cosmetic Formulations: A Fuzzy Line between Actives and Vehicles
Formulations and Skin Penetration
Vehicles
Surfactants
Thickening Agents
Penetration Enhancers
Preservatives
Noxious Side Effects of Topical Formulations
Conclusive Remarks
References
Monographs of Herbal Principles
Abyssinian Kale*
Açai Palm
Acerola
Almond
Aloe
Argan Tree
Baobab Tree
Bearberry
Bilberry
Bladder Wrack
Boswellia
Brewer's Yeast
Burdock
Buriti Palm
Butcher's Broom
Chamomile
Chasteberry
Chlorella
Cinnamon
Coconut Palm
Cola
Cotton
Cupuacu
Dulse
English Ivy
European Elder
Ginkgo
Gotu Kola
Grape
Green Tea
Guarana
Hops
Horse Chestnut
Iceland Moss
Indian Coleus
Irish Moss
Lemonbalm
Licorice
Linden
Macadamia Nut
Maerl
Mafura
Malabar Tamarind
Mango
Marula
Methylxanthines
Moringa
Murumuru
Neem
Oarweed
Olive Oil
Perilla
Pomegranate
Purple Tephrosia
Rosa Mosqueta
Rosemary
Round-Head Bush Clover
Sacha Inchi
Sausage Tree
Savory
Shiitake
Soybean
Spirulina
St. John's Wort
Wakame
Watercress
Wheat
Wild Yam
Witch Hazel
Yellow Sweet Clover

*Each herb section includes Features, Constituents, Properties, Dermatologic and Cosmetic Use, Side Effects and Toxicity, and References.