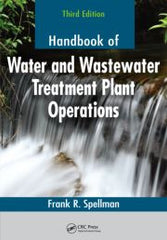 Handbook of Water and Wastewater Treatment Plant Operations, Third Edition By Frank Spellman
Handbook of Water and Wastewater Treatment Plant Operations, Third Edition
Features
Adds an additional 250 math problems and solutions, updates on "sick water," and a new chapter on operator safety
Provides step-by-step procedures for the proper and efficient operation of water and wastewater treatment systems
Enables users to properly operate water and wastewater plants and suggests several troubleshooting procedures for returning a plant to optimum operation levels
Offers regulatory guidance to engineers working in industry
Prepares users for proper operation of water and wastewater treatment plants and serves as a widely-used guidebook used for numerous licensure exam preps
Summary
Handbook of Water and Wastewater Treatment Plant Operations the first thorough resource manual developed exclusively for water and wastewater plant operators has been updated and expanded. An industry standard now in its third edition, this book addresses management issues and security needs, contains coverage on pharmaceuticals and personal care products (PPCPs), and includes regulatory changes. The author explains the material in layman's terms, providing real-world operating scenarios with problem-solving practice sets for each scenario. This provides readers with the ability to incorporate math with both theory and practical application. The book contains additional emphasis on operator safety, new chapters on energy conservation and sustainability, and basic science for operators.
What's New in the Third Edition:
 Prepares operators for licensure exams
 Provides additional math problems and solutions to better prepare users for certification exams
 Updates all chapters to reflect the developments in the field
 Enables users to properly operate water and wastewater plants and suggests troubleshooting procedures for returning a plant to optimum operation levels
A complete compilation of water science, treatment information, process control procedures, problem-solving techniques, safety and health information, and administrative and technological trends, this text serves as a resource for professionals working in water and wastewater operations and operators preparing for wastewater licensure exams. It can also be used as a supplemental textbook for undergraduate and graduate students studying environmental science, water science, and environmental engineering.
Table of Contents
Section I Water and Wastewater Operations: An Overview
Current Issues in Water and Wastewater Treatment Operations
Introduction
Sick Water
Publicly Owned Treatment Works: Cash Cows or Cash Dogs?
The Paradigm Shift
Multiple-Barrier Concept
Management Problems Facing Water and Wastewater Operations
Water/Wastewater Operators
Introduction
Setting The Record Straight
The Computer-Literate Jack or Jill
Plant Operators as Emergency Responders
Operator Duties, Numbers, and Working Conditions
Operator Certification and Licensure
Upgrading Security
Introduction
Consequences of 9/11
Security Hardware/Devices
SCADA
Energy Conservation Measures and Sustainability
Introduction
Pumping System Energy Conservation Measures
Design and Control of Aeration Systems
Blowers
Water/Wastewater References, Models, and Terminology
Setting the Stage
Treatment Process Models
Key Terms, Acronyms, and Abbreviations Used in Water and Wastewater Operations
Section II Water/Wastewater Operations: Math, Physics, and Technical Aspects
Water/Wastewater Math Operations
Introduction
Calculation Steps
Equivalents, Formulae, and Symbols
Basic Water/Wastewater Math Operations
Applied Math Operations
Water Math Concepts
Wastewater Math Concepts
Water/Wastewater Laboratory Calculations
Science Fundamentals
Introduction
Force and Motion
Acceleration
Force
Newton's Laws of Motion
Work
Energy
Momentum
Circular Motion
Angular Motion
Angular Velocity
Angular Acceleration
Torque
Angular Momentum
Gravity
Thermal Properties
States of Matter
Wave Motion and Sound
Light
Color
Blueprint Reading
Blueprints: The Universal Language
Units of Measurement
Alphabet of Lines
Dimensions and Shop Notes
Machine Drawings
Sheet Metal Drawings
Hydraulic and Pneumatic Drawings
Welding Blueprints and Symbols
Electrical Drawings
AC&R Drawings
Schematics and Symbols
Electrical Schematics
General Piping Systems and System Schematics
Hydraulic and Pneumatic System Schematic Symbols
Water Hydraulics
What Is Water Hydraulics?
Basic Concepts
Stevin's Law
Density and Specific Gravity
Force and Pressure
Head
Flow and Discharge Rates: Water in Motion
Piezometric Surface and Bernoulli's Theorem
Well and Wet Well Hydraulics
Friction Head Loss
Basic Piping Hydraulics
Open-Channel Flow
Flow Measurement
Fundamentals of Electricity
Nature of Electricity
The Structure of Matter
Conductors, Semiconductors, and Insulators
Static Electricity
Magnetism
Difference in Potential
Current
Resistance
Battery-Supplied Electricity
Simple Electrical Circuit
Ohm's Law
Electrical Power
Electrical Energy (Kilowatt-Hours)
Series DC Circuit Characteristics
Ground
Open and Short Circuits
Parallel DC Circuits
Series–Parallel Circuits
Conductors
Electromagnetism
AC Theory
Inductance
Practical Electrical Applications
Hydraulic Machines: Pumps
Introduction
Basic Pumping Calculations
Centrifugal Pumps
Positive-Displacement Pumps
Water/Wastewater Conveyance
Delivering the Lifeblood of Civilization
Conveyance Systems
Definitions
Fluids vs Liquids
Maintaining Fluid Flow in Piping Systems
Piping System Accessories
Piping System Temperature Effects and Insulation
Metallic Piping
Nonmetallic Piping
Tubing
Industrial Hoses
Pipe and Tube Fittings
Valves
Piping System Protective Devices
Piping Ancillaries
Section III Characteristics of Water
Basic Water Chemistry
Chemistry Concepts and Definitions
Chemistry Fundamentals
Water Solutions
Water Constituents
Common Water Measurements
Water Treatment Chemicals
Chemical Drinking Water Parameters
Water Microbiology
Introduction
Microbiology: What Is It?
Water/Wastewater Microorganisms
Key Terms
Microorganism Classification and Differentiation
The Cell
Bacteria
Protozoa
Microscopic Crustaceans
Viruses
Algae
Fungi
Nematodes and Flatworms (Worms)
Water Treatment and Microbiological Processes
Wastewater Treatment and Microbiological Processes
Water Ecology
Introduction
What Is Ecology?
Why Is Ecology Important?
Why Study Ecology?
History of Ecology
Levels of Organization
Ecosystems
Energy Flow in the Ecosystem
Food Chain Efficiency
Ecological Pyramids
Productivity
Population Ecology
Stream Genesis and Structure
Benthic Life
Benthic Plants and Animals
Benthic Macroinvertebrates
Typical Benthic Macroinvertebrates in Running Waters
Summary of Key Terms
Water Quality
Introduction
Water Cycle
Water Quality Standards
Water Quality Characteristics of Water and Wastewater
Biomonitoring, Monitoring, Sampling, and Testing
What Is Biomonitoring?
Periphyton Protocols
Fish Protocols
Macroinvertebrate Protocols
Biological Sampling in Streams
Drinking Water Quality Monitoring
General Preparation and Sampling Considerations
Test Methods for Drinking Water and Wastewater
Section IV Water and Water Treatment
Potable Water Source
Earth's Blood
Introduction
Hydrologic Cycle
Sources of Water
Surface Water
Groundwater
Groundwater Under the Direct Influence of Surface Water
Surface Water Quality/Treatment Requirements
Public Water System Quality Requirements
Well Systems
Watershed Protection
Introduction
Current Issues in Water Management
What Is a Watershed?
Watershed Protection and Regulations
A Watershed Protection Plan
Reservoir Management Practices
Watershed Management Practices
Eight Tools of Watershed Protection
Water Treatment Operations
Introduction
Waterworks Operators
Purpose of Water Treatment
Stages of Water Treatment
Pretreatment
Coagulation
Flocculation
Sedimentation
Filtration
Disinfection
Arsenic Removal from Drinking Water
Who Is Ultimately Responsible for Drinking Water Quality?
Section V Wastewater and Wastewater Treatment
Wastewater Treatment Operations
Wastewater Operators
Wastewater Terminology and Definitions
Measuring Plant Performance
Wastewater Sources and Characteristics
Wastewater Collection Systems
Preliminary Treatment
Primary Treatment (Sedimentation)
Secondary Treatment
Activated Sludge
Disinfection of Wastewater
Advanced Wastewater Treatment
Solids (Sludge/Biosolids) Handling
Permits, Records, and Reports
Appendices
Index