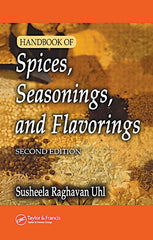 Handbook of Spices, Seasonings, and Flavorings, Second Edition by Susheela Raghavan
Reference - 330 Pages - 15 Color & 1 B/W Illustrations
Features
Discusses more than 200 individual spices, seasoning blends, and flavoring ingredients
Covers cutting-edge flavor contributors such as flowers, wrappers, seafood flavorings, and much more
Describes major regional ethnic cuisines and their characteristic flavor profiles and ingredients
Includes methods for applying spices in product development and assuring proper quality control
Summary
An A to Z Catalog of Innovative Spices and Flavorings
Designed to be a practical tool for the many diverse professionals who develop and market foods, the Handbook of Spices, Seasonings, and Flavorings combines technical information about spices—forms, varieties, properties, applications, and quality specifications — with information about trends, spice history, and the culture behind their cuisines. The book codifies the vast technical and culinary knowledge for the many professionals who develop and market foods.
While many reference books on spices include alphabetized descriptions, the similarity between this book and others ends there. More than just a list of spices, this book covers each spice's varieties, forms, and the chemical components that typify its flavor and color. The author includes a description of spice properties, both chemical and sensory, and the culinary information that will aid in product development. She also explains how each spice is used around the world, lists the popular global spice blends that contain the spice, describes each spice's folklore and traditional medicine usage, and provides translations of each spice's name in global languages. New to this edition is coverage of spice labeling and a chapter on commercial seasoning formulas.
Going beyond the scope of most spice books, this reference describes ingredients found among the world's cuisines that are essential in providing flavors, textures, colors, and nutritional value to foods. It explores how these ingredients are commonly used with spices to create authentic or new flavors. The author has created a complete reference book that includes traditionally popular spices and flavorings as well as those that are emerging in the US to create authentic or fusion products. Designed to help you meet the challenges and demands of today's dynamic marketplace, this book is a complete guide to developing and marketing successful products.
Table of Contents
SPICES IN HISTORY

"Spicy" Tale: A Short History of the Spice Trade
TRENDS IN THE WORLD OF SPICES TODAY

Trends in Foods and Spices 
Understanding and Effectively Meeting the Growing Demand for Authenticity 
Spices and Flavorings of Popular Authentic Ethnic Cuisines
Fusion and Regional American Flavorings
FORMS, FUNCTIONS AND APPLICATIONS OF SPICES

Introduction 
Spice Forms, Properties and Composition 
Spice Functions  
Spice Preparation 
Spice Applications 
SPICE LABELING, STANDARDS, REGULATIONS AND QUALITY SPECIFICATIONS

Spice Labeling
Spice Standards
Spice Regulations
Spice Quality and Specifications
A TO Z SPICES

Ajowan. Allspice. Anise/Aniseed. Annatto/Achiote. Asafoetida/Asafetida. Basil. Bay/Laurel Leaf. Caper. Caraway. Cardamom/Cardamon.  Celery.  Chervil. Chile Peppers/Chilies. Chives. Cinnamon. Clove. Coriander(Seed and Leaf/Cilantro). Cumin and Black Cumin. Dill and Dillweed. Epazote. Fennel Seed. Fenugreek (Seed and Leaf). Galangal/Galangale/Galingale. Garlic . Ginger. Grains of Paradise. Horseradish. Juniper. Kaffir Lime. (Leaf and Fruit). Kari Leaf. Lavender. Lemon Balm. Lemon Verbena. Lemongrass. Lovage. Mace. Marjoram. Mints: Spearmint and Peppermint. Mustard. Myrtle. Nigella. Nutmeg. Onion. Oregano. Paprika. Parsley. Peppers: Black, White, Green, Long/Pippali. Cubeb, Negroand Tasmanian. Poppy Seed. Rosemary. Saffron. Sage. Sassafras . Savory. Screw-Pine Leaf/Pandanus or Pandan Leaf. Sesame Seed. Sorrel. Star Anise. Sumac . Szechwan or Sichuan Pepper/ Fagara. Tamarind. Tarragon. Thyme. Turmeric/Tumeric. Wasabi. Watercress. Zedoary.
EMERGING FLAVOR CONTRIBUTORS

Introduction 
Root/Rhizome Flavorings 
Flowers 
Wrappers 
Seafood Flavorings 
Fruit Flavorings 
Vegetable Flavorings 
Legume Flavorings 
Nut Flavorings 
Sweet and Bitter Flavorings-Vanilla, Coffee, Cocoa 
Preparation and Cooking Techniques in Ethnic Cuisines
EMERGING SPICE BLENDS AND SEASONINGS

Introduction 
Latin American Spice Blends 
Asian Spice Blends 
Mediterranean Spice Blends 
Caribbean Spice Blends 
African Spice Blends 
North American Spice Blends 
Global Spice Blends 
SPICE BLEND OR SEASONING FORMULATIONS

Introduction
Mexican Red Mole Blend
Jamaican Jerk Seasoning
Brazilian Pineapple Seasoning
Moroccan Seasoning
Vietnamese Nuoc Mam Cham Seasoning
Thai Red Curry Blend
South Indian Spice Blend for Lentil/Dhal Curry
Bibliography
Index