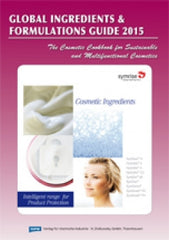 Global Ingredients & Formulations Guide 2015 : The Cosmetic cookbook for Sustainable and Multifunctional Cosmetics by SOFW Germany
The GIFG 2015 will introduce numerous innovations: the practicable realization of sustainability in the process of production and extraction of valuable vegetable feedstock, multifunctional actives from natural sources as well as a patented product for simplifying the formulation of sun screen products, new technologies to supersede environmentally harmful ingredients as well as a technology enabling maximum purity and yield while requiring a minimum expenditure. Additionally, you will get insight in the requirements for "green packaging" and the updated regulations and possibilities for dermatological tests.

The GIFG 2015 – a specialized cook book for the innovative formulator!

Content
Chapter I – Sustainability

Sustainability - Right from the Start
(Prof. Dr. Andrea Wanninger, Frederik Schulze Spüntrup )

Eco-Responsibility Driving our Innovation
(Alban Muller)

The New Generation of Scrubs to Replace Banned PE Beads
(Charles-Henri Morice, Benjamin Radigue, Christophe Winckler )

Easy Formulation of Demanding Ingredients with an Emulsifier Based on
Renewable Sources
(Dr. Achim Friedrich, Petra Biehl, Frank Unger, Dr. Jan Marian von Hof, Dr. Jürgen Meyer)

General and Legal Requirements Plus a Particular View on "Green" Packaging
(Dr. Andrea V. Kühn, Prof. Dr. Florian C. Stintzing)

Chapter II – Natural Ingredients

Pore Refining and Control of Sebum Production Barosma betulina-Derived Active
Against Visible Signs of Greasy Skin
(Hagen Döring, Laura Gallego, Lourdes Mayordomo, Blanca Martínez-Teipel, Ricard Armengol)

Cosmoperine – Dermal Penetration Enhancer
(PhD Muhammed Majeed, PhD Priti Vaidyanathan)

Anti-Aging Active Substances
(H. Eggensperger, P. Bauer)

Natural Waxes: Optimizing Oil Binding Capacity of Lip Balms and Sticks
(Martina Heldermann)

Anti-Plaque Effect of Zinc Citrate Measured via cellZscope®
(Markus Gerhart, Dr. Felix Weiher, Dr. Rauni Kuczius)

Hair Treatment with Tamarindus sp. Fruit Extract
(D. Severino, M. Pojar, A. D. Santos, D. Rodriguês, A. F. Silva, M. S. Baptista)

Chapter III – Multifunctional Actives

EVOIL® CARESS, a Skin-Friendly Natural Massage-Oil
(Victoria Donat, Anna Martí)

QMILK® Microbeads – a Solution Following the Recipe of Nature
(Leonie Völsgen )
The Reinvention of Ginger Root: A Traditional Plant Promoted to a Multifunctional
Skin-Beautifying Active
(Imke Meyer, Martina Herrmann, Marielle le Maire, Elisa Caviola, Paolo Pertile)

Probiotic Fractions, a New Solution to Improve Skin Health by Strengthening Barrier Function, Enhancing Skin Hydration and Preventing Inflammation
(Rachida Nachat-Kappes, Aurélie Gardarin, Laurent Rios, Edwige Ranouille, Magali Favre-Mercuret,
Véronique Jay-Debaut, Jean-Yves Berthon)

Chapter IV – Marine Ingredients

A Sweet Touch with Multiple Benefits for the Skin
(Ph.D. Estelle Loing)

A Toned and More Defined Silhouette by Imitating Aerobic Training
(M. Rull, C. Davi, E. Cañadas, N. Almiñana, R. Delgado)

Chapter V – Sun Screens
The Easy Way to Make a Sunscreen
(Stéphanie Acker, Matthias Hloucha und Uli Osterwalder)

Chapter VI – Production Technologies

Production of Biowax Powders and the Possibility of Using them in Cosmetic Products
(Dr.-Ing. S. Pörschke, Prof. Dr.-Ing. E. Weidner)

Innovative Chromatography System Revolutionizes Purification and Yield
(S. Schagen, M. Fuchs,U. Maschke, S. Marten, A. Knauer, M. Bavand, T. Müller-Späth)

Chapter VII – Testing Methods and regulations

Tests on Cosmetics – Update 2015
(M.D. Werner Voss, M.D. Gerrit Schlippe, M.D.Ph.D. Ilsabe Bunge, Ph.D. Michael Bayer)

Chapter VIII – Formulations

Body Care, Cleansing, Color Cosmetics, Hair Care, Skin Care, Sun Care, Disclaimers

Chapter IX – Company Index

Chapter X – Supplier's Directory