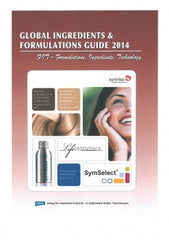 Global Ingredients & Formulations Guide 2014 FIT Formulations, Ingredients, Technology
The foundation for new products are good ideas and their transfer into new ingredients. 

With new ingredients in turn, new formulation and product concepts for the demanding consumers can be developed.

The Global Ingredients and Formulation Guide 2014 is focusing on the subject F I T and contains articles of ingredient suppliers, cosmetic manufacturers, test institutes and consultants. 
The subjects of the single chapters include new innovations in the area of high throughput formulation development and optimization of company processes, critical questions about standard test 
procedures for the safety of products and additionally where perfumes may come from and whether flavors might play a role in the development of new perfumes. 

We make you F I T for cosmetic's challenges of tomorrow.



Content: 

Chapter 1 – Innovations 

Faster and Better, Sustainable Formulation of Personal Care and Beauty Products by Automated High-Throughput and High-Output Solutions (Dr. Teodora Doneva)

Managing Innovation in the Global Marketplace 
(Bernhard A. Zimmermann, Ian M. Clark)

Chapter 2 – Haircare and Skin Cleansing 

Comparison of Abyssinian Oil and Argan Oil in Hair Care Applications 
(Veronika Solotoff)

Myristyl Lactate – A Nature-Derived Emollient for Hair Care and Skin Cleansing 
(Luigi Rigano)

Formulating »Sulfate-Free«, Super Mild and Luxurious Personal Cleansing Products with Amino Acid-Based Surfactants 
(Evelyn G. Su, Ph.D., Xue Hongyu, Wang Zhiqian & Wei Yi)

Chapter 3 – Skin Care Ingredients 

Hydrophobic α-ketoglutarate as a Solution for Wrinkles 
(Ilona Mat`éjková, Tomáš Muthný) 

Sphingolipids as a Natural Fountain of Youth 
(M. Farwick, A. Schrader, M. Pflaumbaum) 

Anti-Aging – Building a Natural Defence against Oxidative Stress and ROS-Formation 
(Maria Lüder)
Ameliorating Sensitive Skin Comfort and Protecting from its Distressing Effects 
(Marta Rull, Cristina Davi, Elena Cañadas, Núria Almiñana, Raquel Delgado)

Glycerol-based Liposomal Systems 
(Julian Smits, Dr. Bernd Albrecht) 

The Mangosteen Fruit and its Active Xanthones – an Actual Literature Surveyand an Outlook for Applications in Cosmetics
(Evelyn Wolfram, Michèle Lindner, Brigitte Aus dem Siepen)

Chapter 4 – In Vitro Tests on Active Ingredients 

Beracare Dermal Protective Active System In Vitro Effects On Human Cells 
(A. Souza, J. Checon, A. Cassemiro, R. Souza) 

UV-irritated In Vitro 3D Skin Models Demonstrate the Effectiveness of Cosmetic Ingredients against Mechanisms of Premature Skin Aging 
(Claas Rüffer, Werner A. Voss)

Chapter 5 – In Vivo Skin Tests 

Field Observations – the Interrelationship between the Results of Epicutaneous Testing and the Place of Application 
(Dr. med. Gerrit Schlippe) 

Chapter 6 – Sustainability Concepts 

A Natural Gelling Pearl Improves Oil-phase Viscosity 
(Adriano Busetti, Stefania Zanzottera) 

High Performance Raw Materials for the New Sustainability Megatrend 
(Dr. V. Maienschein) 

Surface Treated Pigments and Powders 
(Giorgiana Giancola, PhD) 

Chapter 7 – Perfuming 

Edible Perfuming for Cosmetics and Commodities – Vision or Fiction? 
(Claudia Valder) 

Chapter 8 – Formulations 

Body Care, Cleansing, Decorative Cosmetic, Hair Care, Skin Care, Sun Care 

Chapter 9 – Company Index 

Contact Addresses, Company Description, Product Range, Service

Chapter 10 – Suppliers' Directory

Suppliers' Contact