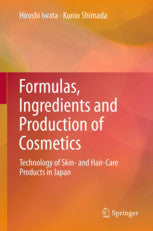 Formulas, Ingredients and Production of Cosmetics by Iwata, Hiroshi, Shimada, Kunio
Formulas, Ingredients and Production of Cosmetics
Technology of Skin- and Hair-Care Products in Japan
Iwata, Hiroshi, Shimada, Kunio
2013, XII, 221 p. 4 illus
Serves as a guideline for manufacturers of cosmetic products
Includes theoretical formulation of polymers to be used in designing formulas
Contains methods for designing prescriptions based on the chemical structures of raw materials
Today, young cosmetics researchers who have completed their graduate studies and have entered a cosmetics company are put through several years of training before they become qualified to design cosmetics formulations themselves. They are trained so that they can design formulas not by a process of logic but by heart, like craftsmen, chefs, or carpenters. This kind of training seems a terrible waste of labor and time. To address this issue and allow young scientists to design novel cosmetics formulations, effectively bringing greater diversity of innovation to the industry, this book provides a key set of skills and the knowledge necessary for such pursuits. The volume provides the comprehensive knowledge and instruction necessary for researchers to design and create cosmetics products. The book's chapters cover a comprehensive list of topics, which include, among others, the basics of cosmetics, such as the raw materials of cosmetics and their application; practical techniques and technologies for designing and manufacturing cosmetics, as well as theoretical knowledge; emulsification; sensory evaluations of cosmetic ingredients; and how to create products such as soap-based cleansers, shampoos, conditioners, creams, and others. The potential for innovation is great in Japan's cosmetics industry. This book expresses the hope that the high level of dedicated research continues and proliferates, especially among those who are innovators at heart.
TABLE OF CONTENTS :
Developing the formulations of cosmetics.
Raw materials of cosmetics.
Emulsions.
Sensory properties of cosmetics.
Practice of designing cosmetics formulations.