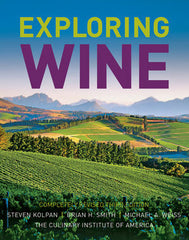 Exploring Wine: The Culinary Institute of America's Guide to Wines of the World, Completely Revised 3rd Edition by Steven Kolpan, Brian H. Smith, Michael A. Weiss, The Culinary Institute of America (CIA)
Exploring Wine: The Culinary Institute of America's Guide to Wines of the World, Completely Revised 3rd Edition
August 2010, ©2010
In its previous editions, Exploring Wine has been called "a large jewel and a classic," "one of the most intelligent, most easily understood books on the subject of winegrowing," and "a must-have resource for the weekend novice drinker and the everyday tasting professional."  This new edition includes even more practical, comprehensive information on wine regions, growing, purchasing, tasting, and pairing.  Based on advice from professors and other wine professionals who use the second edition of Exploring Wine, we have included more balanced coverage of the various winegrowing regions, more tasting notes on international wines, a pronunciation guide for foreign words, and more basic, practical information in the business section.  The third edition also includes more information on the health effects of wine and responsible drinking, as well as an improved guide to types of glassware and bottles.  In addition, the food and wine pairing section will go beyond merely matching menus with wine choices, to showwhy certain flavors go together and teach students how to identify the best matches.  Throughout the book, easy-to-use charts, tables, and maps help to simplify the subject for students and wine enthusiasts, and beautiful color photographs and personal interviews with winegrowers bring the encyclopedic content vividly to life.  From the vine to the table, Exploring Wine encompasses all aspects of wines througout the world, and is an essential reference for any student, professional, or wine aficionado. 
Foreword.
Acknowledgments.
PART 1: FUNDAMENTALS: GROWING GRAPES, MAKING WINE, AND TASTING WINE.
Chapter 1: The Right Stuff: Grape Growing and Grape Types.
Chapter 2: How Wine is Made.
Chapter 3: Tasting Wine.
PART 2: WINES OF THE NEW WORLD.
Chapter 4: United States: California.
Chapter 5: Beyond California: Wines of North America.
Chapter 6: The Southern Hemisphere.
PART 3: WINES OF THE OLD WORLD.
Chapter 7: France.
Chapter 8: Italy.
Chapter 9: Spain.
Chapter 10: Portugal.
Chapter 11: Germany, Austria, and Switzerland.
Chapter 12: Wines of Eastern Europe.
Chapter 13: The Eastern Mediterranean and Asia.
PART 4: WINE, FOOD, AND HEALTH.
Chapter 14: Wine and Food.
Chapter 15: Wine and Health.
PART 5: WINE SERVICE AND STORAGE.
Chapter 16: Wine Service.
Chapter 17: Purchasing and Storage.
Chapter 18: Wine Lists.
Appendix A: Conversions.
Appendix B: How to Read a Label.
Appendix C: American Appellations.
Appendix D: Vintage Charts.
Glossary.
Bibliography.
Index.
Steven Kolpan, Brian H. Smith (1952–2009), and Michael A. Weiss have been the leading wine educators at The Culinary Institute of America for the last twenty–five years. They have traveled to virtually every wine–producing region in the world and have trained more than 30,000 students to understand and appreciate wine. The authors are active participants and organizers of professional and consumer food and wine events, write for several wine and food publications, and lecture and teach extensively in educational programs, seminars, and conferences throughout the United States and other wine–producing nations. Their book WineWise won the coveted James Beard Foundation Award for Best Beverage Book of 2009 and the Georges Duboeuf Award for Best Wine Book of 2009. Founded in 1946, The Culinary Institute of America is an independent, not–for–profit college offering bachelor's and associate degrees in culinary arts and baking and pastry arts as well as certificate programs in culinary arts and wine and beverage studies. A network of more than 40,000 alumni has helped the CIA earn its reputation as the world's premier culinary college. The CIA, which also offers courses for industry professionals and food enthusiasts, has campuses in New York (Hyde Park), California (St. Helena), and Texas (San Antonio).