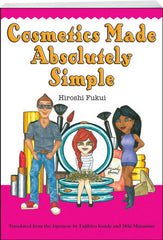 Cosmetics Made Absolutely Simple By Hiroshi Fukui, PhD, Fujihiro Kanda, PhD, Miki Minamino, PhD, MBA
Cosmetics Made Absolutely Simple

 

Summary:

Softcover

 

Format Details

Softcover
147 Pages
Published 2013
68 Basic, Easy-to-read Chapters on Cosmetics, Hair, and Skin with Full Page Illustrations!
Unlike the heavy, in-depth academically oriented science found in most formulation, chemistry or skin care books currently on the market, Cosmetics Made Absolutely Simple is visually stimulating with its many illustrations, a lighter read, yet a comprehensive guide on skin, cosmetics, and hair with a less-is-more mentality. Less-is-more science. Now that's a find. Now that's a keeper!
Written by Dr. Hiroshi Fukui, a scientist and leader in the cosmetic industry, Cosmetics Made Absolutely Simple has been translated from its original Japanese into English. This book is a quick-paced, well-illustrated, basic science book covering a multitude of areas having to do with skin, hair, and cosmetics. With just the right amount of science and terms on skin physiology, the skin barrier, hair physiology, formulating, functionality of cosmetics and more, this book educates both the consumer and professional alike. Six sections covers: what cosmetics are; protecting the skin and body from the environment; different types of cosmetics and the science behind them; cosmetic stability and safety, and the future of cosmetics. Chapters include information and definitions of surfactants, polymers, emulsions, dispersion systems, photo aging / natural aging, different types of wrinkles, hair growth cycle, nail growth, fragrance, color, and a bevy of related cosmetic science for a total of 68, one-page chapters, each with full page illustrations, diagrams and/or tables!
Cosmetics Made Absolutely Simple is recommended for the consumer who wants to know more about what's in their make-up and learn just enough science to understand the function and structure of skin and hair. This book is also recommended for professionals in the skin care industry such as estheticians and cosmetologists; for instructor and students interested in cosmetic science; for those contemplating a career in the beauty industry or those who formulate, manufacture, market, sell or package personal care products. Cosmetics Made Absolutely Simple is an ideal textbook and an excellent starter book before delving into other
TABLE OF CONTENTS :
Preface
Section 1 What are cosmetics? A brief overview

Chapter 1 What are cosmetics?
Chapter 2 The utilities of cosmetics
Chapter 3 Cosmetics throughout history
Chapter 4 History of modern cosmetics
Chapter 5 The global cosmetic market

Section 2 Protecting skin and body from the outside world

Chapter 6 Dealing with the exterior
Chapter 7 The skin is not a mere peel
Chapter 8 The skin is a "workhorse"
Chapter 9 Protection from dryness or "drying out"
Chapter 10 UV rays: A great enemy of the skin
Chapter 11 What is an aged skin?
Chapter 12 Stress harms your skin
Chapter 13 Skin moisture
Chapter 14 Your skin type
Chapter 15 Hair too has its functions
Chapter 16 Are men more prone to balding?
Chapter 17 The functions and physiology of the nail
Chapter 18 How do we recognize what we touch?
Chapter 19 How do we smell things?
Chapter 20 How do we see things?

Section 3 What are cosmetics made from?

Chapter 21 What are cosmetics made from?
Chapter 22 Water: A unique substance
Chapter 23 The state of what's inside a cosmetic counter
Chapter 24 A structure friendly to both water and oil
Chapter 25 The various states of water and oil
Chapter 26 Making good use of foams
Chapter 27 Oily ingredients/aqueous ingredients
Chapter 28 The role of polymers
Chapter 29 Color is the key to makeup products
Chapter 30 The intriguing capabilities of powders
Chapter 31 Ingredients providing protection from UV rays
Chapter 32 Putting on fragrance

Section 4 Purposeful cosmetics: Achieving specific results

Chapter 33 The road to the birth of a cosmetic product
Chapter 34 Devices for manufacturing cosmetics
Chapter 35 Packaging influences usability
Chapter 36 Making soaps: Mankind's first chemical reaction
Chapter 37 Keeping yourself clean
Chapter 38 Maintaining supple hair through shampooing
Chapter 39 Moisture retention: The basics of skin care
Chapter 40 The skin care "trio"
Chapter 41 Foundation: a "second skin"
Chapter 42 Appealing eyes
Chapter 43 Long-lasting lipsticks
Chapter 44 Glamorous nails
Chapter 45 Enhancing hair styles
Chapter 46 What color is your hair?
Chapter 47 The art of aroma

Section 5 Cosmetic stability, safety, and environmental issues

Chapter 48 Separating cosmetic components
Chapter 49 Investigating the structure of cosmetic components
Chapter 50 Usability and rheology
Chapter 51 What is color?
Chapter 52 How is stability ensured?
Chapter 53 Are all microorganisms harmful?
Chapter 54 Safety is of utmost importance
Chapter 55 Utilizing computers
Chapter 56 Cosmetics and the environment

Section 6 The future of functional cosmetics

Chapter 57 Anti-aging
Chapter 58 Facial pore treatment and chemical peeling
Chapter 59 What is active oxygen?
Chapter 60 Are pimples the symbol of adolescence?
Chapter 61 Are you fully protected from UV rays?
Chapter 62 Changing skin complexion to our liking
Chapter 63 Growing hair
Chapter 64 Don't let yourself be called smelly
Chapter 65 Brushing one's teeth to prevent cavities
Chapter 66 The efficacy of aroma
Chapter 67 Actives that penetrate the skin
Chapter 68 Cosmetics of the future