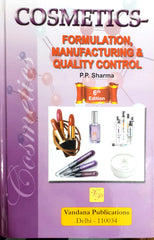 COSMETICS : Formulation, Manufacturing & Quality Control 6th ed 2021 by P P Sharma
Year of Publication : 2021
Edition : 6th ed.
The latest 6th ed. covers comprehensively on Formulation, Manufacturing and Quality control of Cosmetics.
HIGHLIGHTS OF SIXTH EDITION : 
Cosmetics Rules 2020 added
Several New formulations including those with new ingredients added
In the chapter of most recent topic - in vitro testing of cosmetics in lieu of animal testing advances made included
Several plants and naturally occurring substances added in herbal cosmetic chapter
Brief discussion on aroma chemicals groups included.
Book is divided into 11 Parts :
General
Cosmetics for the Skin
Cosmetics for the Hair
Cosmetics for the Eyes
Cosmetics for the Nails
Cosmetics for the Teeth
Cosmetics for Vulnerables
Miscellaneous Cosmetics 
Essences, Perfumes and Fragrances
Toilet soaps
Quality Control of Cosmetics
Appendices :
List of some Machinery Manufacturers in India
Index of trade names of cosmetics raw materials of indigenous manufacturers or of foreign manufacturers being marketed in India
Index of trade names of cosmetic raw materials of foreign manufacturers 
Index of New Cosmetic Raw Materials of Foreign Origin