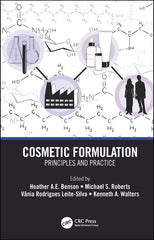 Cosmetic Formulation: Principles and Practice 1st Edition
by Heather A.E. Benson, Michael S. Roberts, Vania Rodrigues Leite-Silva, Kenneth Walters
Summary
Cosmetics are the most widely applied products to the skin and include creams, lotions, gels and sprays. Their formulation, design and manufacturing ranges from large cosmetic houses to small private companies. This book covers the current science in the formulations of cosmetics applied to the skin. It includes basic formulation, skin science, advanced formulation, and cosmetic product development, including both descriptive and mechanistic content with an emphasis on practical aspects.
Key Features:
Covers cosmetic products/formulation from theory to practice
Includes case studies to illustrate real-life formulation development and problem solving
Offers a practical, user-friendly approach, relying on the work of recognized experts in the field
Provides insights into the future directions in cosmetic product development
Presents basic formulation, skin science, advanced formulation and cosmetic product development




Table of Contents
1. Cosmetic Products: Science and Senses.
2. Skin Morphology, Development and Physiology.
3. Stratum Corneum Lipid Composition and Organization.
4. Immunology of Skin and Reactivity.
5. The Human Nail: Structure, Properties, Therapy and Grooming.
6. Hair Morphology, Biogenesis, Heterogeneity, Pathophysiology and Hair Follicle Penetration.
7. Common Cosmetic Ingredients: Chemistry, Actions, Safety and Products.
8. Thickening Agents.
9. Surfactants in Cosmetic Products.
10. Oils.
11. Moisturizers.
12. Preservation and Preservatives.
13. Powders in Cosmetic Formulations.
14. Natural Products and Stem Cells and Their Commercial Aspects in Cosmetics.
15. Designed Antimicrobial Peptides.
16. Understanding Fragrance: From Chemistry to Emotion.
17. Sunscreens.
18. Advance Formulation Techniques Including Innovative Materials.
19. Advanced Nanoformulation Technologies in Cosmetic Science.
20. Nanocarrier-Based Formulations: Production and Cosmeceutic Applications. 21. From Formulation Design to Production: The Scale-Up Process.
22. Topical Products Applied to the Nail.
23. Packaging of Cosmetic and Personal Care Products.
24. Sensory Analysis Applied to Cosmetic Products.
25. Alternative Methods: New Rules.
26. In Vitro Methods: Alternatives to Animal Testing.