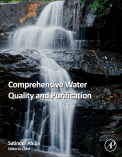 Comprehensive Water Quality and Purification, 1st Edition - 4 Volumes Set By Satinder Ahuja
Comprehensive Water Quality and Purification
Editor-in-Chief:
Published: October 2013
Key Features
Unlike other works published to date that concentrate on issues of water supply, water resource management, hydrology, and water use by industry, this work is more tightly focused on the monitoring and improvement of the quality of existing water supplies and the recovery of wastewater via new and standard separation techniques
Using analytical chemistry methods, offers remediation advice on pollutants and contaminants in addition to providing the critical identification perspective
The players in the global boom of water purification are numerous and varied. Having worked extensively in academia and industry, the Editor-in-Chief has been careful about constructing a work for a shared audience and cause
Description
This major reference work provides a rich source of methods for analyzing water to assure its safety from natural and deliberate contaminants, including those that are added because of carelessness of human endeavors. Human development has great impact on water quality, and new contaminants are emerging every day. The issues of sampling for water analysis, regulatory considerations, and forensics in water quality and purity investigations are covered in detail. Microbial as well as chemical contaminations from inorganic compounds, radionuclides, volatile and semivolatile compounds, disinfectants, herbicides, and pharmaceuticals, including endocrine disruptors, are treated extensively. Researchers must be aware of all sources of contamination and know how to prescribe techniques for removing them from our water supply.
Readership
Researchers, regulators and managers involved with water quality and purity, as well as libraries, institutions and corporations involved with water purification.
Comprehensive Water Quality and Purification, 1st Edition
VOLUME 1. STATUS AND TRENDS OF WATER QUALITY WORLDWIDE
VOLUME 2. ASSURING PURITY OF DRINKING WATER
VOLUME 3. REMEDIATION OF POLLUTED WATERS
VOLUME 4. SUSTAINABILITY OF WATER QUALITY
Satinder Ahuja
Satinder (Sut) Ahuja obtained his Ph.D. in analytical chemistry from the University of Sciences in Philadelphia. He worked for Novartis Corp. in various leadership positions for over 25 years while simultaneously teaching and guiding research as an adjunct professor at Pace University for over 10 years. As president of Ahuja Consulting, he advises on quality issues relating to chemicals/pharmaceuticals and water. Dr. Ahuja has written/edited over twelve books for Elsevier and published widely in the scientific literature. A member of the executive committee of Rivers of the World Foundation (ROW), Dr. Ahuja is an expert on improving water quality and has organized numerous global symposia and workshops on this topic (American Chemical Society, UNESCO, etc.) In 2014, he chaired a workshop in Delhi, India, on Sustainability and Water Quality for Global Innovation Initiatives of American Chemical Society.
Ahuja Consulting, Calabash, NC, USA