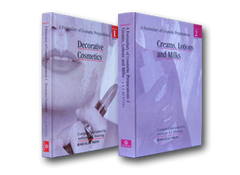 A Formulary of Cosmetic Preparations , 2 Volumes Compiled and edited by Anthony L.L. Hunting
A Formulary of Cosmetic
Preparations
Compiled and edited by Anthony L.L. Hunting
Vol. 1, Decorative Cosmetics, 1991
210 x 297mm, 8.5" x 12"
Hardback, 296 pages
Vol. 2, Creams, Lotions and Milks, 1993
210 x 297mm, 8.5" x 12"
Hardback, 630 pages
n both books the suppliers' sections and the glossaries have been updated, but the recipes are as originally published. The subjects covered in volume 1 are: Face cosmetics; Nail products; Lip cosmetics; Body cosmetics; Eye cosmetics; and Perfumes and colognes. Recipes of existing products are provided.
Volume 2 contains over 570 formulations for cosmetic emulsions. Part I contains general formulations for miscellaneous creams, lotions, milks, and gels and also provides recipes for solubilizing and emulsifying particular ingredients. Part II is devoted to the formulation of the following cosmetic creams: All-purpose products; Moisturizing products; Cleansing masks, creams and lotions; Facial treatment products; Foundation, vanishing and day creams; Hand products; Emollient products; and Baby products.
These volumes contain detailed glossaries of the ingredient names used in the formulations, the addresses of ingredient suppliers and, where applicable, of their agents throughout the world. They include extensive bibliographies and indexes to the formulations, both in alphabetical order of formulation and of formulating company, and to the ingredients recommended in the formulations, both in order of chemical name and of trade name.