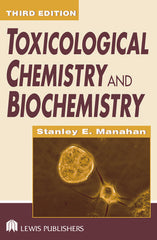 Toxicological Chemistry and Biochemistry 3rd ed. By Stanley E. Manahan
Published September 24, 2002 by CRC Press
452 Pages 51 B/W Illustrations
Book Description
This unique book bridges the gap between toxicology and chemistry at a level understandable by a wide spectrum of readers with various interests and a broad range of backgrounds in chemistry, biochemistry, and toxicology. The third edition has been thoroughly updated and expanded to reflect recent advances in important areas of research, including toxicogenetics and toxic effects on various body systems. Toxicological Chemistry and Biochemistry, Third Edition begins by outlining the basic concepts of general chemistry, organic chemistry, and biochemistry needed to understand the topics in the book. The author then presents an overview of environmental chemistry so that you can understand the remainder of the material covered within that framework. He also discusses biodegradation, bioaccumulation, and biochemical processes that occur in water and soil.

The new chapter on toxic effects considers toxicities to the endocrine and reproductive systems, and the section on xenobiotics analysis deals with the determination of toxicants and their metabolites in blood and other biological materials. The chapter on the genetic aspects of toxicology discusses the ways in which chemical damage to DNA can cause mutations, cancer, and other toxic effects on specific body systems, and it considers the role of genetics in determining individual susceptibilities to various toxicants.

Toxicological Chemistry and Biochemistry, Third Edition retains the basic information and structure that made the first two editions popular with students and industry professionals, while enhancing the usefulness of the book and modernizing it in important areas. Review questions and supplementary references at the end of each chapter round out the third edition of this bestselling work.
Table of Contents
Chemistry and Organic Chemistry
Environmental Chemistry
Biochemistry
Metabolic Processes
Environmental Biological Processes and Ecotoxicology
Toxicology
Toxicological Chemistry
Genetic Aspects of Toxicology
Toxic Responses
Toxic Elements
Toxic Inorganic Compounds
Organometallics and Organometalloids
Toxic Organic Compounds and Hydrocarbons
Organooxygen Compounds
Organonitrogen Compounds
Organohalide Compounds
Organosulfur Compounds
Organophosphorus Compounds
Toxic Natural Products
Analysis of Xenobiotics