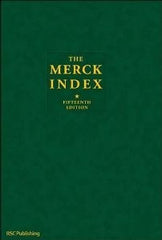 The Merck Index 15 th Edition Chemistry's Constant Companion Editor Maryadele J. O'Nei
The Merck Index is the one stop reference work for scientists and professionals looking for authoritative and authenticate information on chemicals, drugs,herbs and biological Products. The 15th edition is now available  in print as well as online.

The Merck Index contains over 10,000 monographs with information relating to compounds used in research, trade and chemicals which have environmental impact. The 15th edition is fully revised and up to date.



New table included showing non-proprietary name stems
Following are new additions to Fifteenth edition



Over 500 new monographs



Over 35% of the existing entries significantly updated



Over 1000 new structures



Over 10,000 monographs cover more than 18,000 compounds with 50,000 synonyms



Molecular weights recalculated with the latest IUPAC standards



New table showing non-proprietary name stems



Revised Periodic Table and Atomic Weight Tables

Hardback | 2708 pages | ISBN 9781849736701 | 2013 |