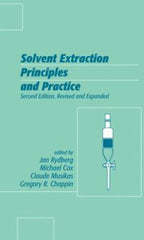 Solvent Extraction Principles and Practice, 2nd Revised and Expanded by Jan Rydberg
SPECIAL INDIAN REPRINT !
Solvent Extraction Principles and Practice, Revised and Expanded
Features
Provides a modern introduction to solvent extraction
Reviews the pysical principles central to the technique
Allocates eight chapters to in-depth discussion of industrial applications in hydrometallurgy, nuclear science, and other areas
Features a new chapter expounding on ionic strength corrections
Summarizes recent advances, such as the documentation of new solvent matrices
Supplements the text with more than 850 literature citations, 200 figures, and 80 tables
Summary
A complete and up-to-date presentation of the fundamental theoretical principles and many applications of solvent extraction, this enhanced Solvent Extraction Principles and Practice, Second Edition includes new coverage of the recent developments in solvent extraction processes, the use of solvent extraction in analytical applications and waste recovery, and computational chemistry methods for modeling the solvent extraction of metal ions. Offering sound scientific and technical descriptions in a format accessible to students and expedient for researchers and engineers, this edition also features a new chapter on ionic strength corrections and contains more than 850 up-to-date literature citations.
Table of Contents
Introduction to Solvent Extraction
Michael Cox and Jan Rydberg
Principles of Solubility and Solutions
Yizhak Marcus
Complexation of Metals
Gregory R. Choppin
Solvent Extraction Equilibria
Jan Rydberg, Gregory R. Choppin, Claude Musikas, and Tatsuya Sekine
Solvent Extraction Kinetics
Pier Roberto Danesi
Ionic Strength Corrections
Ingmar Grenthe and Hans Wanner
Development of Industrial Solvent Extraction Processes
Gordon M. Ritcey
Principles of Industrial Solvent Extraction
Philip J. D. Lloyd
Engineering Design and Calculation of Extractors for Liquid–Liquid Systems
Eckhart F. Blass
Extraction of Organic Compounds
Ronald Wennersten
Solvent Extraction in Hydrometallurgy
Michael Cox
Solvent Extraction in Nuclear Science and Technology
Claude Musikas, Wallace W. Schulz, and Jan-Olov Liljenzin
Analytical Applications of Solvent Extraction
Manuel Aguilar, José Luis Cortina, and Ana María Sastre
The Use of Solvent Extraction in the Recovery of Waste
Michael Cox and Hans Reinhardt
Recent Advances in Solvent Extraction Processes
Susana Pérez de Ortiz and David Stuckey
Computational Chemistry in Modeling Solvent Extraction of Metal Ions
Jerzy Narbutt and Marian Czerwinski
Appendix
Index of Compounds