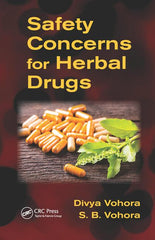 Safety Concerns for Herbal Drugs 1st Edition by Divya Vohora, S. B. Vohora
CRC Press
Published November 24, 2015
Reference - 160 Pages - 2 B/W Illustrations
Summary
Are herbal drugs totally devoid of adverse effects when used alone, as herbal formulations, or in concurrent use with modern medicines? Safety Concerns for Herbal Drugs examines that question and others like it to give you the information you need to judge for yourself the balance between the risks and benefits associated with the therapeutic use of medicinal plants. It stands out from other books by directing your attention to the aspects of safety and toxicity.
The authors venture into the relatively unexplored (or deliberately hidden) side of the picture. They present a survey of approximately 1500 medicinal plants and herbal products, 59 global (from 27 countries) and 75 Indian examples of toxic and adverse effects and drug interactions. Additionally, they present the current status of regulatory laws and their enforcement in 73 countries to support their contention that such laws and enforcement are inadequate, and that herbal drugs are unscientifically being promoted as totally safe.
To give you the full picture, the authors go on to examine such issues as danger from large-scale misuse and abuse, self-prescription, substitution, adulteration, concurrent use with modern medicines, hazardous but avoidable drug interactions, risk groups, and present status of drug regulations.
Table of Contents
Introduction
Herbal Drugs: Wide Usage and Popularity
Causes for Alienation from Modern Medicine
Questions and Aims of the Study

Toxicity and Adverse Effects of Herbal Drugs
Introduction
Incidence
Classification and Factors Affecting Herbal Toxicity
Risk Groups

Global Picture

The Indian Scene
Introduction
Single Plants
Formulations

Regulatory Aspects
Introduction
Angola
Antigua and Barbuda
Argentina
Armenia
Australia
Austria
Azerbaijan
Bangladesh
Belarus
Belgium
Benin
Bhutan
Botswana
Brazil
Burkina Faso
Bulgaria
Burundi
Cameroon
Canada
Central African Republic
Chad
China
Comoros
Congo
Czech Republic
Denmark
Ethiopia
Equatorial Guinea
Estonia
Finland
France
Georgia
Germany
Ghana
Greece
Guinea
Hungary
Iceland
India
Indonesia
Iran
Ireland
Israel
Japan
Kenya
Korea
Maldives
Mali
Mauritius
Myanmar
Nepal
Netherlands
Nigeria
Norway
Poland
Portugal
Romania
Russia
South Africa
Spain
Sri Lanka
Sweden
Switzerland
Tajikistan
Thailand
Turkey
Uganda
Ukraine
United Kingdom
United Republic of Tanzania
United States
Uzbekistan
Zambia

Critical Appraisal of the Available Data