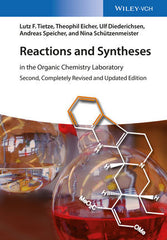 Reactions and Syntheses: in the Organic Chemistry Laboratory, 2nd, Completely Revised and Updated Edition
Reactions and Syntheses: in the Organic Chemistry Laboratory, 2nd, Completely Revised and Updated Edition
The second edition of this classic text has been completely revised, updated, and extended to include chapters on biomimetic amination reactions, Wacker oxidation, and useful domino reactions.
The first-class author team with long-standing experience in practical courses on organic chemistry covers a multitude of preparative procedures of reaction types and compound classes indispensable in modern organic synthesis. Throughout, the experiments are accompanied by the theoretical and mechanistic fundamentals, while the clearly structured sub-chapters provide concise background information, retrosynthetic analysis, information on isolation and purification, analytical data as well as current literature citations. Finally, in each case the synthesis is labeled with one of three levels of difficulty.

An indispensable manual for students and lecturers in chemistry, organic chemists, as well as lab technicians and chemists in the pharmaceutical and agrochemical industries.