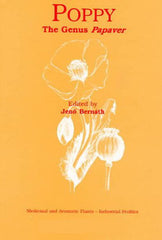 Poppy: The Genus Papaver edited by Jeno Bernáth
SPECIAL INDIAN REPRINT !!
Poppy:
The Genus Papaver
edited by Jeno Bernáth
---
Poppy: The Genus Papaver presents up-to-date information on Poppy and related species. The introduction emphasizes the importance of Poppy, giving a historical evaluation.
In the chapters describing the botany and taxonomy of the genus some novel aspects are discussed, e.g., special morphological, structural differentiation. The chapters concerning the physiology and cultivation of Poppy and alternative raw materials give a detailed presentation of this complex issue. Beyond the detailed analysis of ecological factors affecting the accumulation of opiates, both the basic methods of illicit and licit cultivation are discussed.
Poppy: The Genus Papaver provides an evaluation of the Australian Poppy production. Also discussed are the pharmalogical effectiveness and application of opiates, as well as the international control of their processing and trade, and the modern approach to compiling both the chemical and biotechnological information concerning poppy.
This comprehensive treatment of Poppy should be of interest to everyone involved in medicinal plant research.
Contents
Introduction
Biology of Poppy
Taxonomy
Morphological - Anatomical Aspects
Physiological - Ecological Aspects
Genetics an Breeding of Papaver somniferum
Chemistry - Biochemistry of Poppy
Chemical Structures of Alkaloids
Biosynthesis of Morphinane Alkaloids
Biotechnology of Poppy
In Vitro Biosynthesis of Poppy Alkaloids
In Vitro Culture Technologies
Raw Material Production
Cultivation of Poppy in the Temperate Zone
Cultivation of Poppy under Tropical Conditions
Poppy Cultivation in Australia
An Alternative Raw - The Cultivation and Breeding of Papaver bracteatum
Pharmacology of Poppy Alkaloids
Overview of World Tendencies on Cultivation, Processing and Trade of Raw and Opiates
Utilization of Poppy Seed