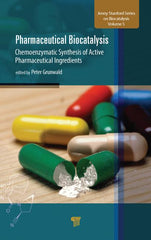 Pharmaceutical Biocatalysis : Chemoenzymatic Synthesis of Active Pharmaceutical Ingredients
Jenny Stanford Publishing
Published December 20, 2019
Reference - 838 Pages - 65 Color & 297 B/W Illustrations
Summary
This volume provides an insight into the future strategies for commercial biocatalysis with a focus on sustainable technologies, together with chemoenzymatic and biotechnological approaches to synthesize various types of approved and new active pharmaceutical ingredients (APIs) via proven and latest synthetic routes using single-step biocatalytic or enzyme cascade reactions. Many of these drugs act as enzyme inhibitors, as discussed in a chapter with a variety of examples. The targeted enzymes are involved in diseases such as different cancers, metastatic and infectious diseases, osteoporosis, and cardiovascular disorders. The biocatalysts employed for API synthesis include hydrolytic enzymes, alcohol dehydrogenases, laccases, imine reductases, reductive aminases, peroxygenases, cytochrome P450 enzymes, polyketide synthases, transaminases, and halogenases. Many of them have been improved with respect to their properties by engineering methods. The book discusses the syntheses of drugs, including alkaloids and antibiotics, non-ribosomal peptides, antimalarial and antidiabetic drugs, prenylated xanthones, antioxidants, and many important (chiral) intermediates required for the synthesis of pharmaceuticals.
Table of Contents
Future Strategies for Commercial Biocatalysis
Robert E. Speight and Karen T. Robins
Synthetic Approaches to Inhibitors of Isoprenoid Biosynthesis
Pedro Merino et al.
Using a Recombinant Metagenomic Lipase for Enantiomeric Separation of Pharmaceutically Important Drug Intermediates
Rakesh Kumar, Uttam Chand Banerjee, and Jagdeep Kaur
Biotechnological Production of Prenylated Xanthones for Pharmaceutical Use
Mariam Gaid et al.
Chemoenzymatic Approaches Towards (S)-Duloxetine
Danish Shahzad, Muhammad Faisal, and Aamer Saeed
Synthesis of Antioxidants via Biocatalysis
Salman Zafar
Biocatalysts: The Different Classes and Applications for Synthesis of APIs
Peter Grunwald
Laccase-Mediated Synthesis of Novel Antibiotics and Amino Acid Derivatives
Annett Mikolasch
Hydrolytic Enzymes for the Synthesis of Pharmaceuticals
Sergio González-Granda and Vicente Gotor-Fernández
Ene-Reductases in Pharmaceutical Chemistry
Katrin Hecht and Rebecca Buller
Biocatalyzed Synthesis of Antidiabetic Drugs
Andrés R. Alcántara
Glucose-Sensitive Drug Delivery Systems Based on Phenylboronic Acid for Diabetes Treatment
Li Zhao et al.
Synthesis of Important Chiral Building Blocks for Pharmaceuticals Using Lactobacillus and Rhodococcus Alcohol Dehydrogenases
Marion Rauter, Simon Krebs, Gotthard Kunze
Asymmetric Reduction of C=N Bonds by Imine Reductases and Reductive Aminases
Matthias Höhne, Philipp Matzel, and Martin Gand
Cipargamin: Biocatalysis in the Discovery and Development of an Antimalarial Drug
Thomas Rucha, Elina Siirola, and Radka Snajdrova
Halogenases with Potential Applications for the Synthesis of Halogenated Pharmaceuticals
Georgette Rebollar-Pérez et al.
Conversion of Natural Products from Renewable Resources in Pharmaceuticals by Cytochromes P450
Giovanna Di Nardo and Gianfranco Gilardi
Oxyfunctionalization of Pharmaceuticals by Fungal Peroxygenases
Jan Kiebist et al.
Biocatalytic Synthesis of Chiral 1,2,3,4-Tetrahydroquinolines
Yongzheng Chen, Liu Song, and Zhongqiang Wang
New Strategies to Discover Non-Ribosomal Peptides as a Source of Antibiotics Molecules
Mario Alberto Martínez-Núñez, Zuemy Rodríguez-Escamilla, and Víctor López y López
Enzyme Kinetics and Drugs as Enzyme Inhibitors
Peter Grunwald