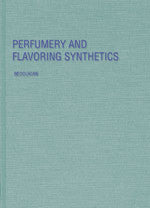 Perfumery and Flavoring Synthetics By Paul Z Bedoukian
Perfumery and Flavoring Synthetics

 

Summary:

Hardcover
Hardcover
465 Pages
Published 1986
This comprehensive reference discusses several hundred compounds comprising most of the materials used in the perfumery and flavoring industry. Includes:
The history of the principal perfumery synthetics (naturally occurring, derived from natural sources, or entirely laboratory produced)
Chemistry
Application
Physical and chemical properties
Manufacture
Uses
It is hoped that this book will be useful to chemists engaged in the field of essential oils, perfumes, flavors, soaps and cosmetics. Chemists in other fields may also find it of interest since many unusual reactions, seldom used in other organic chemical industries, are employed in the synthesis of a number of perfumery materials.
TABLE OF CONTENTS :
Introduction to the Third Edition
Preface
Acknowledgements
Introduction to the First Edition
Introduction to the Second Edition
Contents
Abbreviations used

Acetophenone and homologs
Acetylenic compounds
Aliphatic alcohols (saturated)
Aliphatic alcohols (unsaturated)
Aliphatic Aldehydes
Alkadienals
Alkenals
Amyl and hexyl cinnamic aldehyde
Anisic aldehyde
Anthranilates
Benzaldehyde
Benzyl alcohol and its esters
Borneol and isoborneol
Carbinols
Cinnamic acid and its esters
Cinnamyl alcohol
Cinnamic aldehyde
Citral (Neral)
Citronellal
Citronellol (Rhodinol)
Coumarin
Cyclamen aldehyde
Diphenyl compounds
Eugenol and Isoeugenol
Geraniol and Nerol
Heliotropin
Heterocyclic compounds
Hydroxycitronellal
Indole and Skatole
Ionones and Methyl ionones
Jasmone group
Alkyl Lactones
Linalool
Menthol
Musk Odorants


Macrocyclic musks
Nitro musks
Polycyclic musks
Tetralin musk
Indian musks
Isochroman musks
Steroid musks
Miscellaneous musks

Naphthol derivatives
Nitriles
Phenylacetaldehyde and homologs
Phyenyl ethyl alcohol
Quinoline group
Salicylates
Terpineol
Vanillin
Miscellaneous interesting aromatics

Amber compounds
Cedarwood Derivatives
tert-Butyl cyclohexyl esters
Damascone and Damascenone
Dihydro alpha terpineol
Geranic acid and Ester
Hydroxy aldehydes
Irone
Isocyclocitral
Maltol
Myrcenol
Nerolidol
Nerone
Nopol and Nopyl acetate
Nootkatone
Oxyacetaldehydes
Propenyl guaethol
Raspberry ketone
Rose oxide
Sandalwood Odor Compounds
Undecatriene