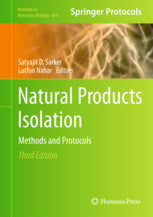 Natural Products Isolation Methods and Protocol 3rd ed. by Sarker, Satyajit D., Nahar, Lutfun (Eds.)
Natural Products Isolation
Series: Methods in Molecular Biology, Vol. 864
Sarker, Satyajit D., Nahar, Lutfun (Eds.)
3rd ed. 2012, XII, 552p. 147 illus., 4 illus. in color.
Hardcover.
Reflects the significant progress made in natural materials isolation and extraction
Features detailed methods and protocols tested and proven in labs around the world
Includes expert tips and key implementation advice to ensure successful results
With significant developments in the areas of chromatography and spectroscopy as well as the unique inherent chemical diversity of natural products, vital in drug research, natural products research has gained new momentum.  Fully updating and adding to the previous two editions, Natural Products Isolation, Third Edition documents the latest methods and technologies for natural products isolation with a combination of all new chapters and revised and expanded classic methods.  Written in the highly successful Methods in Molecular Biology™ series format, chapters include introductions to their respective topics, lists of the necessary materials and reagents, step-by-step, readily reproducible laboratory protocols, and expert tips on troubleshooting and avoiding known pitfalls.
Authoritative and up-to-date,
Natural Products Isolation, Third Edition
provides the substantial background information needed by budding natural product researchers as well offering an invaluable reference guide to available methodologies and techniques for the more experienced researchers.
Content Level » Professional/practitioner
Keywords » Chromatography - Drug development - Drug discovery - Extraction - Isolation - Natural products research - Spectroscopy
Contents :

Dedication . . . . . . . . . . . . . . . . . . . . . . . . . . . . . . . . . . . . . . . . . . . . . . . . . . . . . . . . . . . v
Preface. . . . . . . . . . . . . . . . . . . . . . . . . . . . . . . . . . . . . . . . . . . . . . . . . . . . . . . . . . vii
Contributors. . . . . . . . . . . . . . . . . . . . . . . . . . . . . . . . . . . . . . . . . . . . . . . . . . . . . . xi

1 An Introduction to Natural Products Isolation . . . . . . . . . . . . . . . . . . . . . . . . 1
Satyajit D. Sarker and Lutfun Nahar

2 Initial and Bulk Extraction of Natural Products Isolation. . . . . . . . . . . . . . . . . 27
Véronique Seidel

3 Supercritical Fluid Extraction in Natural Products Analyses . . . . . . . . . . . . . . . 43
Lutfun Nahar and Satyajit D. Sarker

4 Accelerated Solvent Extraction for Natural Products Isolation . . . . . . . . . . . . . 75
Mohammad A. Mottaleb and Satyajit D. Sarker

5 Microwave-Assisted Extraction in Natural Products Isolation. . . . . . . . . . . . . . 89
Abbas Delazar, Lutfun Nahar, Sanaz Hamedeyazdan,
and Satyajit D. Sarker

6 An Introduction to Planar Chromatography and Its Application
to Natural Products Isolation . . . . . . . . . . . . . . . . . . . . . . . . . . . . . . . . . . . . . 117
Simon Gibbons

7 Isolation of Natural Products by Low-Pressure
Column Chromatography . . . . . . . . . . . . . . . . . . . . . . . . . . . . . . . . . . . . . . . . 155
Raymond G. Reid and Satyajit D. Sarker

8 Isolation of Natural Products by Ion-Exchange Methods. . . . . . . . . . . . . . . . . 189
Klaus Dragull and John J. Beck

9 Separation of Natural Products by Countercurrent Chromatography. . . . . . . . 221
James B. McAlpine, J. Brent Friesen, and Guido F. Pauli

10 Isolation of Natural Products by Preparative High Performance
Liquid Chromatography (Prep-HPLC) . . . . . . . . . . . . . . . . . . . . . . . . . . . . . . 255
Zahid Latif and Satyajit D. Sarker

11 Isolation of Natural Products by Preparative Gas Chromatography . . . . . . . . . 275
Temel Özek and Fatih Demirci

12 Hyphenated Techniques and Their Applications in Natural
Products Analysis . . . . . . . . . . . . . . . . . . . . . . . . . . . . . . . . . . . . . . . . . . . . . . 301
Satyajit D. Sarker and Lutfun Nahar

13 Extraction of Plant Secondary Metabolites . . . . . . . . . . . . . . . . . . . . . . . . . . . 341
William P. Jones and A. Douglas Kinghorn

14 Isolation of Marine Natural Products . . . . . . . . . . . . . . . . . . . . . . . . . . . . . . . 367
Wael E. Houssen and Marcel Jaspars
x Contents

15 Isolation of Microbial Natural Products. . . . . . . . . . . . . . . . . . . . . . . . . . . . . . 393
Olov Sterner

16 Extraction and Isolation of Saponins . . . . . . . . . . . . . . . . . . . . . . . . . . . . . . . . 415
Runner R.T. Majinda

17 Extraction and Isolation of Phenolic Compounds . . . . . . . . . . . . . . . . . . . . . . 427
Celestino Santos-Buelga, Susana Gonzalez-Manzano,
Montserrat Dueñas, and Ana M. Gonzalez-Paramas

18 Scaling-Up of Natural Products Isolation . . . . . . . . . . . . . . . . . . . . . . . . . . . . 465
Yash Kumarasamy

19 Follow-Up of Natural Products Isolation. . . . . . . . . . . . . . . . . . . . . . . . . . . . . 473
Richard J.P. Cannell, Satyajit D. Sarker, and Lutfun Nahar

20 Natural Products Isolation in Modern Drug Discovery Programs . . . . . . . . . . 515
Alexander I. Gray, John O. Igoli, and RuAngelie Edrada-Ebel

Index . . . . . . . . . . . . . . . . . . . . . . . . . . . . . . . . . . . . . . . . . . . . . . . . . . . . . . . . . . . 535