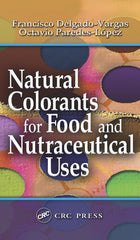 Natural Colorants for Food and Nutraceutical Uses By Francisco Delgado-Vargas, Octavio Paredes-Lopez
SPECIAL INDIAN REPRINT 
Reference - 344 Pages - 81 B/W Illustrations
Features
Provides thorough coverage of natural colorants and other pigments
Emphasizes nutraceutical properties and uses
Relates chemical structure to biochemical and functional properties and applications
Addresses the extraction and processing stability of individual pigments
Covers the use of biotechnology for increasing production of colorants
Summary
As our understanding of the science and functions of color in food has increased, the preferred colorants, forms of use, and legislation regulating their uses have also changed. Natural Colorants for Food and Nutraceutical Uses reflects the current tendency to use natural pigments. It details their science, technology, and applications as well as their nutraceutical properties.
Starting with the basics, the book creates an understanding of physical colors, discusses color measurement, and analyzes why natural pigments are preferred today. The authors present an overview of global colorants, including safety, toxicity and regulatory aspects. Information about inorganic and synthetic colorants is included. The book then focuses on applications of natural colorants, with special attention given to characteristics, extraction and processing stability, and the use of biotechnology and molecular biology to increase colorant production. Finally, the book examines the nutraceutical properties of natural colorants and compares them to other well-known nutraceutical components.
From the basics to highly specialized concepts and applications, Natural Colorants for Food and Nutraceutical Uses presents essential, practical information about pigments in the food industry. With its coverage of state-of-the-art technologies and future trends in the application of color to food, this book provides the most comprehensive, up-to-
date survey of the field.
Table of Contents
Colorants: From the Physical Phenomenon to their Nutraceutical Properties: An OverviewThe Color Phenomenon
Definition
Human Perception
Measurement
Pigments
Definition
A World of Colorless Compounds
Pigments in Biology
Molecular Affinities of Pigments
Natural Distribution of Pigments
Classification of Food Colors
Choice and Application of Colors
Pigments as Food Colorants
Colorants as Food Additives
Safety of Food Colorants
Inorganic and Synthetic Pigments: History, Sources and Uses
Inorganic
Synthetic
Analytical Techniques and the Evaluation of Color Purity
Natural Pigments: A Global Perspective
Distribution
Functions
Carotenoids
Definition
Classification and Nomenclature
Distribution
Biosynthesis: Biochemistry and Molecular Biology
Functions
Methodological Aspects
Carotenoids as Food Colors
Processing and Stability
Production of Carotenoids in Bioreactors
Anthocyanins and Betalains
Anthocyanins
Betalains
Other Natural Pigments
Chlorophylls
Caramel
Turmeric
Cochineal, Carmine and other Natural Pigments from Insects
Monascus
Iridoids
Chemicals and Colorants as Nutraceuticals
Fundamentals
Nutraceuticals and Related Terms: Definitions
Food Items as Nutraceuticals
Natural Colorants as Nutraceuticals
Nutraceuticals: The Perspective
Appendix: List of Abbreviations