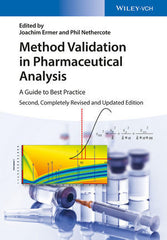 Method Validation in Pharmaceutical Analysis: A Guide to Best Practice, 2nd Edition
Method Validation in Pharmaceutical Analysis: A Guide to Best Practice, 2nd Edition
440 pages
October 2014
Description
This second edition of a global best-seller has been completely redesigned and extensively rewritten to take into account the new Quality by Design (QbD) concept in pharmaceutical manufacturing.
As in the first edition, the analytical requirements during the entire product lifecycle are covered, but now a new section is included on continued performance monitoring and the transfer of analytical procedures. Two case studies from the pharmaceutical industry illustrate the concepts and guidelines presented, and the standards and regulations from the US (FDA), European (EMA) and global (ICH) regulatory authorities are considered throughout.
The undisputed gold standard in the field.
Table of Contents
Analytical Validation within the Pharmaceutical Lifecycle
Analytical Instrument Qualification
  2.1 Analytical Instrument and System Qualification
  2.2 Efficient and Economic HPLC Performance Qualification
Establishment of Measurement Requirements -Analytical Target Profile and Decision Rules
Establishment of Measurement Requirements -Performance Based Specifications
Method Performance Characteristics
Method Design and Understanding
  6.1 Method Selection, Development and Optimisation
  6.2 Analytical Quality by Design and Robustness Investigations
  6.3 Case Study Robustness Investigations
  6.4 System Suitability Tests
Method Performance Qualification
 
   7.1 Case Study: Qualification of an HPLC Method for Identity, Assay, and Degradation Products
 
  7.2 Design and Qualification of a Delivered Dose Uniformity Procedure for a Pressurised Metered Dose Inhaler
 
  7.3 Implementation of Compendial/Pharmacopeia Test Procedures
  7.4 Transfer of Analytical Procedures
Continued Method Performance Verification
Author Information
Joachim Ermer is Director of Analytical Processes and Technology in Quality Operations at Sanofi-Aventis in Frankfurt, Germany. He has a broad experience in analytical activities in pharmaceutical development and quality control, including method development, specification design, regulatory documentation, and validation.
Phil Nethercote is the analytical head for global manufacturing and supply at GlaxoSmithKline in Irvine, UK. He has over 20 years' experience in pharmaceutical analytical method development.