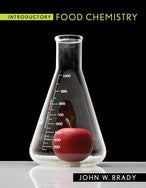 Introductory Food Chemistry By John W. Brady
Introductory Food Chemistry
Hardcover: 656 pages
Publisher: Comstock Publishing Associates (3 June 2013)
Food chemistry is the study of the underlying properties of foods and food ingredients. It seeks to understand how chemical systems behave in order to better control them to improve the nutritional value, safety, and culinary presentation of food. John W. Brady's comprehensive full-color textbook provides a key resource for students of the field.
Designed for undergraduate and beginning graduate level courses, Introductory Food Chemistry explores traditional topics that students need to understand if they are to pursue careers in food in either academia or industry as well as many new and current topics not covered in other textbooks. These topics include mad cow disease, foods contaminated with melamine, acrylamide in baked foods, wine chemistry, allergens, genetically modified foods, as well as current understanding of dietary cholesterol, high fructose corn syrups, and artificial sweeteners.
Authored by one of the leading scholars in the field, Introductory Food Chemistry deploys the most current understanding of the relationship between molecular structure and function for food proteins, carbohydrates, and lipids. The book also makes critical use of color figures that illustrate food transformations visually in three dimensions rather than relying on dry equations alone.
TABLE OF CONTENTS :