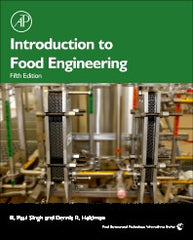 Introduction to Food Engineering, 5th Edition by Singh & Heldman
Introduction to Food Engineering, 5th Edition
02 Aug 2013
Academic Press
892
235 X 191
TABLE OF CONTENTS :
Introduction to Food Engineering, 5th Edition
Chapter 1 – Introduction
Chapter 2 - Fluid Flow in Food Processing
Chapter 3 - Resource Sustainability
Chapter 4 - Heat Transfer in Food Processing
Chapter 5 - Preservation Processes
Chapter 6 – Refrigeration
Chapter 7 - Food Freezing
Chapter 8 – Evaporation
Chapter 9 – Psychrometrics
Chapter 10 - Mass Transfer
Chapter 11 - Membrane Separation
Chapter 12 – Dehydration
Chapter 13 - Supplemental Processes
Chapter 14 - Extrusion Processes for Foods
Chapter 15 - Packaging Concepts
Appendices
Bibliography
Index
Authors :
R Paul Singh
R. Paul Singh is a distinguished professor of food engineering at the University of California, Davis. The American Society of Agricultural Engineers (ASAE) awarded him the Young Educator Award in 1986, the Kishida International Award in 2007, and the Massey Ferguson Education Gold Medal Award in 2013. In 2007, Singh was recognized with a Food Engineering Lifetime Achievement Award by the International Association of Engineering and Food.In 2008, Singh was elected to the US National Academy of Engineering "for innovation and leadership in food engineering research and education."
Dennis Heldman
Dennis R. Heldman is the Dale A. Seiberling Endowed Professor of Food Engineering at The Ohio State University. He is also and Adjunct Professor at the University of California-Davis and Professor Emeritus at the University of Missouri. He has been author or co-author of over 150 research projects and several books. He served as President of the Institute of Food Technologists in 2006-07, and was recognized with the Food Engineering Lifetime Achievement Award from the International Association for Engineering and Food in 2011.