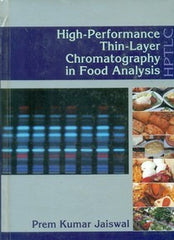 High-Performance Thin-Layer Chromatography in Food Analysis By P.K. Jaiswal
| | |
| --- | --- |
| Author name: | Prem Kumar Jaiswal |
| Book ISBN : | 9788123918372 |
| Binding : | Hard Cover |
| Publishing year : | 2010 |
| Book Edition : | 1 |
| Number of pages : | 384 |
It attempts to elucidate the importance and value of HPTLC analysis for food and food products-the cost-effective technology of the twenty-first century and versatile application of this method in food quality assurance. It describes the methods of analysis for pesticide residues, flavours, organic acids, mycotoxins, antibiotics, additives, food colours, carbohydrates, proteins, pigments and dyes and different adulterants in food, etc. It explains how HPTLC can be integrated into quality assurance programs with a high degree of compliance of analytical protocol. Requirements of laboratory accreditation like validation of method, different qualifications, good laboratory practices and documentations have been discussed at length. The description in the book has been so designed that the users would be benefited not only in the field of food analysis but also in the other domains with a little change in application techniques. The chapters adequately cover the syllabus related to food analysis, mycotoxins, relevant portion of instrumentation (HPTLC), chromatographic methods, safety and quality evaluation of additives and ingredients, natural and synthetic colours, food toxicants and contaminants, detection and estimation of adulterants, analysis of various foods, pesticide residues, etc. prescribed by a number of universities for the BTech and MTech Courses. A significant portion of this book shall be useful to the students of these courses in understanding the different applications of HPTLC.
CONTENTS :
Chapter 1 : Introduction
Chapter 2 : Theoretical Concept of Thin- Layer Chromatography
Chapter 3 : HPTLC Stepwise AnalysisChapter 4 : Techniques for Sample Applications
Chapter 5 : Stationary Phase , TLC   Plates and Sorbents
Chapter 6 : Preparation of Sorbents in HPTLC
Chapter 7 : Mobile Phase in HPTLC
Chapter 8 : Chromatogram Development
Chapter 9 : Visual Detection
Chapter 10 : Derivatization
Chapter 11 : In Situ Quantification
Chapter 12 : Coupling Techniques with HTPLC
Chapter 13 : Good Practices Compliance Operations in HPTLC
Chapter 14 : Method Devlopment and Validation of Analytical Method
Chapter 15 : Guidelines for Standard Operating Procedure of Food Analysis by HPTLC
Chapter 16 : HPTLC in Food Analysis
Chapter 17 : Specific HPTLC Analytical Protocols in Food Analysis
Appendix :
A. Glossary of terms used in HPTLC
B List of Abbreviations
About the Author :
Prem Kumar Jaiswal did his MSc, DPhil, DSc in chemistry from University of Allahabad and was awarded Fellow of the Institute of Chemists. He has more than 135 papers to his credit in different national and international journals. He is a qualified ISO 9000, HACCP auditor and NABL accessor, and has more than 30 years of experience in the field of quality assurance, analysis and quality management of food and agricultural products. He has a wide teaching experience, and has served as Director of Laboratories in Central Agmark Laboratory, Government of India, Nagpur. He has also prepared several manuals related to food, safety and quality assurance. His other book on "High-Performance Thin- Layer Chromatography in Food Analysis" is under publication.