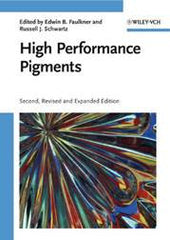 High Performance Pigments By Edwin B. Faulkner (Editor), Russell J. Schwartz
SPECIAL INDIAN REPRINT !
538 pages –Hardcover
January 2015 –Reprint
Description
High Performance Pigments have become increasingly important in recent years, with a growth rate well in advance of the more classical types of pigments.
This book provides up-to-date information on the market for high performance pigments, synthesis, reaction mechanisms, physical and chemical properties, applications, regulatory affairs, toxicology and ecotoxicology. It is the only one on the market covering all high performance pigments in a single volume, offering both producers and users of High Performance Pigments the opportunity to review and update their understanding of latest technologies and market issues, together with assessing key regulatory affairs, in this specialty niche of the chemical industry.
The new edition has been revised and provides an up-to-date overview of scientific and technological aspects on high performance pigments. It addresses current issues such as environmental and health aspects, and regulatory affairs.
"Anyone seeking up-to-date information about the physical-chemical principles of high performance pigments and their special technical properties will find that this book gives an excellent survey of relevant aspects." Angewandte Chemie International Edition.
"This book will effectively help chemists, physicists, engineers and material scientists to stay ahead in this fast-changing field." Österreichische Chemie
"... Wiley-VCH has assembled an international team of high performance experts... This is an enjoyable and stimulating read and beautifully produced. You will find it fascinating - don't miss it." Colour Chemistry
Table of Contents
Introduction to HPP Inorganic Pigments

Bismuth Vanadate

Cadmium Pigments

Cerium Pigments

Complex Inorganic Color Pigments

Titanate Pigments

Special Effect Pigments

Crystal Design of HPPs

Global Market for Organic HPPs

Benzimidazolone and Related Pigments

Diketopyrrolopyrrole (DPP) Pigments

Dioxazine Violet Pigments

Diazocondensation Pigments

Isoindoline Pigments

Isoindolinone Pigments

Perylene Pigments

Phthalocyanines

Quinacridone Pigments

Quinophthalone Pigments

Imidazolone-annellated Triphenedioxazine Pigments

Chemical and Physical Characterization of HPPs

Regulatory Affairs for HPPs (USA)

Regulatory and Legislative Aspects of Relevance to HPPs (EU)

Infrared Pigments

Toxicology and Ecotoxicology Issues with HPPs
Author Information
Ed Faulkner has been with the Sun Chemical Corporation since 1973 and is currently Director of Product Management & Communications. He holds a degree in chemistry from Widener University and has over 30 years of experience in the color industry. Ed is an adjunct professor at the University of Cincinnati and as such teaches in the Masters Program in Cosmetic Science. In addition, he is an instructor for both the Center for Professional Advancement in New Brunswick, New Jersey, and the Society of Cosmetic Chemists: He is currently also active in the Colored Pigments Manufacturers Association (CPMA), including serving as Chairman of the Annual Conference. Ed has had numerous articles published on organic pigments.
Russell J. Schwartz is Vice President, Colors Technology, at Sun Chemical Corporation. Russell earned both his B.S. and M.S. degrees in Chemistry from the State University of New York. He started with Sun Chemical in 1981 as a Research Chemist and served as Senior Scientist, Technical Manager, Group Leader, Research Manager and Director of Research before being named Vice President, Colors Technology. Russell also directs research activities at Sun Chemical's manufacturing facilities at Køge, Denmark, and Bushy Park, South Carolina. He has coauthored a number of technical publications and has also been issued 15 U.S. patents for his work in pigments over his career with Sun Chemical.