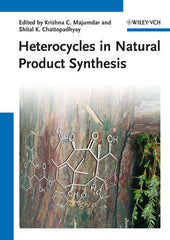 Heterocycles in Natural Product Synthesis by Krishna C. Majumdar (Editor), Shital K. Chattopadhyay (Editor)
Heterocycles in Natural Product Synthesis
658 pages
June 2011
Filling a gap on the market, this handbook and ready reference is unique in its discussion of the usefulness of various heterocyclic systems in the synthesis of natural products.
Clearly structured for easy access to the information, each chapter is devoted to a certain class of heterocycle, providing a tabular presentation of the natural products to be covered containing the particular heterocyclic ring system along with their biological profile, occurrence and most important physical properties, backed by the appropriate references. In addition, the application of the heterocyclic system to the synthesis of natural products ic covered in detail.
Of great interest to organic, natural products, medicinal and biochemists, as well as those working in the pharmaceutical and agrochemical industry.
Shital K. Chattopadhyay is a Professor of Chemistry in the University of Kalyani, India. He obtained his Ph. D. degree from the University of Kalyani (Professor K. C. Majumdar) and then carried out his post-doctoral works in the University of East Anglia (Professor A. McKillop), U.K., Nottingham University (Professor G. Pattenden), U.K., Umea University (Professor T. Frejd), Sweden and Indian Institute of Science, Bangalore (Professor G. Mehta), India, working on total synthesis of complex heterocyclic natural products for nearly six years. His research interests surround on asymmetric synthesis of heterocyclic natural products of biological interest. He is recipient of the European Union research bursuary and Royal Society (U. K.) visiting fellowship. He has co-authored nearly seventy publications and has published one review article.