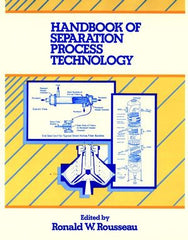 Handbook of Separation Process Technology by Ronald W. Rousseau (Editor)
SPECIAL INDIAN REPRINT !
Handbook of Separation Process Technology
1024 pages
Surveys the selection, design, and operation of most of the industrially important separation processes. Discusses the underlying principles on which the processes are based, and provides illustrative examples of the use of the processes in a modern context. Features thorough treatment of newer separation processes based on membranes, adsorption, chromatography, ion exchange, and chemical complexation. Includes a review of historically important separation processes such as distillation, absorption, extraction, leaching, and crystallization and considers these techniques in light of recent developments affecting them.
GENERAL PRINCIPLES.

Phase Equilibria.

Mass Transfer Principles.

Phase Segregation.

General Processing Considerations.

INDIVIDUAL SEPARATION PROCESSES.

Distillation.

Absorption and Stripping.

Extraction--Organic Chemicals Processing.

Extraction--Metals Processing.

Leaching--Metals Applications.

Leaching--Organic Materials.

Crystallization Operations.

Adsorption.

Ion Exchange.

Large-Scale Chromatography.

Separation Processes Based on Reversible Chemical Complexation.

Bubble and Foam Separations--Ore Flotation.

Bubble and Foam Separations--Waste Treatment.

Ultrafiltration and Reverse Osmosis.

Recent Advances in Liquid Membrane Technology.

Separation of Gaseous Mixtures Using Polymer Membranes.

Membrane Processes--Dialysis and Electrodialysis.

Selection of a Separation Process.

Index.